Freepeats.org is a new online posting forum for finding and giving away free maternity, baby and kids items.  I just joined and really like the Freepeats forum.  You sign up (one-time fee of $4.95) and register for the group in your area (I'm in the Washington DC one).  During the month of February, if you sign-up as a new member of Freepeats.org and post 5 items to give away (not including formula or coupons) they will refund your sign-up fee in March. Check out this deal and further details here.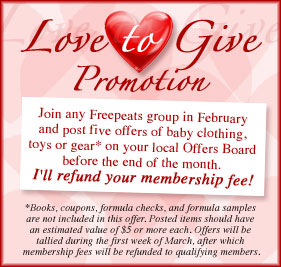 If you live in Memphis, TN or the Virginia Beach/Norfolk areas, you can join for free right now, as a special promotion since these are two of their newest locations.  Here's a news article done by Fox News in Memphis about the Freepeats.org website.
So far I've gotten free formula off of Freepeats.org and I've seen lots of coupons, toys and baby items listed. If you're looking to get rid of some maternity, baby, or kid items and make room for new ones,  Freepeats is a great place to do that.  It is an on-line community of parents in your area who are giving away things for free and looking for things that others are giving away as well.  My suggestion is to hurry up and join this month and post 5 items that you don't need anymore but someone else might want.