Here's what I got during my late night Harris Teeter Super Double Coupons Trip this evening.
My coupons tendered (including double coupons by the store) came to $33.93 and VIC card savings came to $10.56.  I only had to spend $11.15 out-of-pocket, which was an 80% savings!
And I was so excited that the Kraft Velveeta Shells & Cheese catalina deal worked for me, as reported by Frugal in Virginia and Nova Thrifty.  I had a $3 Catalina print out (basically a $3 coupon off my total purchase during my next Harris Teeter visit) when I bought 4 of the Velveeta Shells & Cheese boxes.  Woo hoo!
If any one has questions about particular coupons I used, feel free to write a comment.  I'm not sure I'll get a chance to post all of my coupons and sources in the next few days.
By the way, I don't own a cat or a dog, but the deals on the Pounce Cat treats were too good to pass up (on sale for $1.67 each minus $1.50/2 coupon doubled = $0.17 each when you buy 2) and I have a friend in my neighborhood that has cats.  Also, my sister and her husband just got a rescue dog and the Purina Good Bites were on sale for $2.50 and I had a $1 coupon which doubled and brought the price down to only $0.50 (new treat for their new pup, or something to save for the dog's birthday).
Ah yes, it's fun being frugal, and apparently my friends' pets get to benefit too!
UPDATE: Here's a picture of the catalina that printed and the details on this deal.  The deal is: "Now, Save Even More! Buy Velveeta Shells & Cheese (9.4 oz. or Larger) or Kraft Deluxe Macaroni & Cheese (9.4 oz. or Larger) Between 7/17/ & 8/9. Buy (3) & Get $2.00… OR Buy (4) & Get $3.00…OR Buy (5) or More & Get $4.00… Coupon Off A Future Shopping Order"
If your catalina doesn't print, try calling 1-888-8COUPON (the Catalina company) and if you give them your receipt information and VIC card number, they will be able to pull up your transaction in their system and tell you if the catalina printer wasn't working or if your purchase qualified.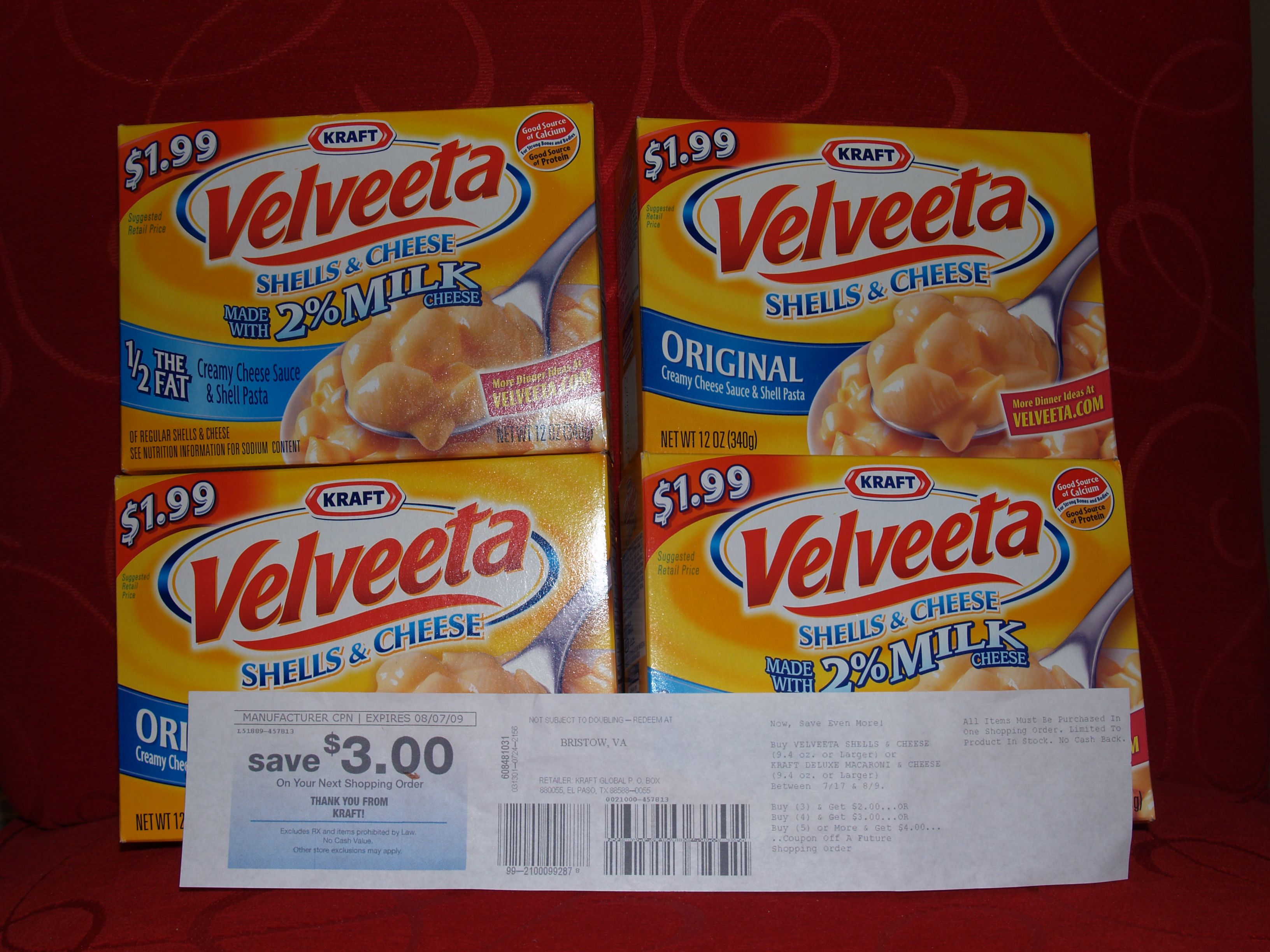 And a close-up of the deal detailed out on my catalina: