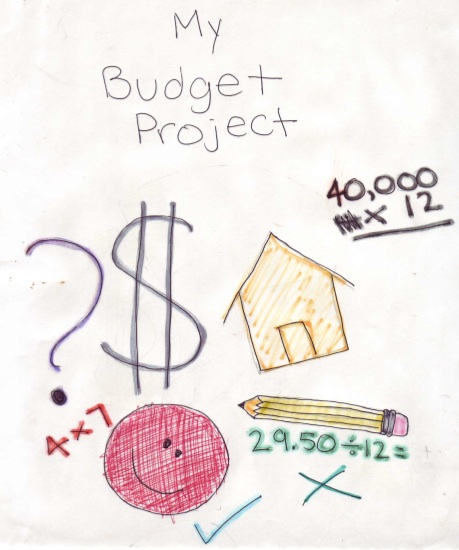 Okay, so I was once again going through the "junk" in my old room at my parents' house (keep in mind, I've been married and not living in their home for over 4 years), and in my attempts to find more items to toss or give away, I found an old school project that caught my eye.
My 8th grade Civics class Budget Project was for some reason, one of those things I couldn't throw away just yet.  I think it was a great idea to give a class project to kids to make them think about finances and budgeting, which they will inevitably have to deal with in the real world.
It made me laugh looking back at what my 8th grade self set in my budget.  Somehow I budgeted to spend more on clothing in a one-month timeframe, than I would spend on groceries.  Ummm… real world to 8th grade Laura, what were you thinking?  I think part of my issue with this project was that the teacher told us if we needed it in the month than we had to allot for it in our budget (when asking about clothing and clothing we might already have, she had said to put everything you wear into the budget and account for everything you used in a month… or maybe I misunderstood her?).
Below are some excerpted pages from that budget… including cut outs from old grocery store and drug store circulars (Giant Food and maybe Shoppers or Magruders? As well as CVS) almost 15 years old… yea 1995!  And my very first meal plan (which also cracks me up because I opted to be really cheap on food in my budget.  For example, lunches were Cup O'Noodles and frozen mini-cheeseburgers, and dinners of potatoes and applesauce–wait a minute, maybe I was making German potato pancakes with applesauce?— and bacon sandwiches on white bread–I must have meant BLT's?).
From my 8th grade self to current self, I have made some major budget changes in the past 15 years


If you're looking to refine your own current budget or if you don't really have one, I suggest you check out resources like: Dave Ramsey's Total Money Makeover book (which you can check out from your local library or listen to the audio book on CD, also from your local library) and his website which has free budgeting tools such as the "Basic Quickie Budget".  Another great resource is Crown Financial Ministries, which has many free online publications and forms for budgeting.
Also, combining savvy shopping and couponing can score you some great prices on food and other items you normally buy for your household.  I suggest you check out the other frugal blogs I listed here who cover deals in the Northern Virginia and/or DC area.
Okay, I hope you get some laughs out of these pages below, because I know I certainly did!  This is my lesson to self, to try to raise my child (and any future children) to be a savvy shopper and budgeter, or at least better than my 8th grade self!