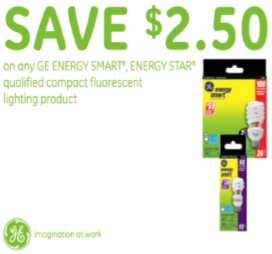 I opened up my NOVEC electric bill today, and found a pleasant surprise!
A $2.50 off coupon good on a GE Energy Smart or Energy Star CFL (compact fluorescent) light bulb in the NOVEC September 2009 newsletter "What's Current".  The coupon is a manufacturer's coupon good through December 31, 2009.
If you live in Prince William County, VA or other area that is serviced by NOVEC, save your newsletter that accompanies your monthly bill to get the coupon.
You can also click here to access the online newsletter version and print off page 2 of the newsletter; the GE CFL coupon is on the bottom right-hand side.