Share the post "New Super WalMart opening in Manassas, VA on Oct. 28th"
**UPDATE: CLICK HERE TO READ MY BRIEF REVIEW OF WALMART'S GROCERY SECTION AT THEIR NEW SUPER CENTER IN MANASSAS, VA**
This week I received the following flyer in the mail about the new Walmart opening in Manassas, VA: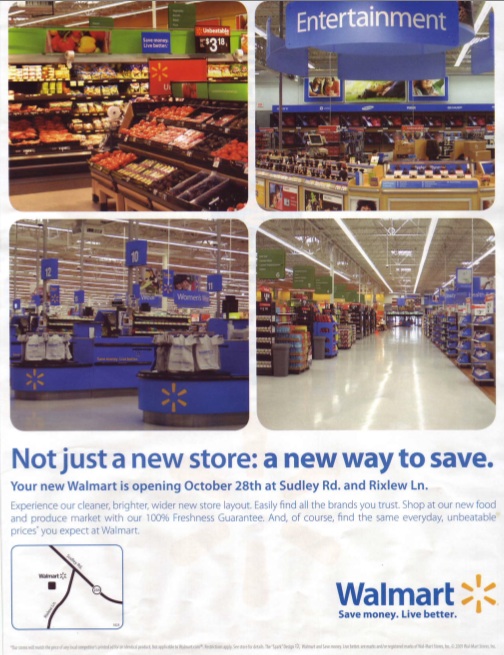 That's right, the highly anticipated new Walmart "Super-Center" will be opening this Wed. October 28th, 2009 near the Manassas Mall off of Sudley Road in Manassas, VA.  I read on another blog that it is scheduled to open at 3:00 PM, but I have not received confirmation from Walmart to verify the opening time.  This Washington Post article from last month mentioned that it will feature a full-service supermarket.  It looks like we'll have yet another affordable grocery store option for our area!
Plus, Walmart advertises that their store will "match the price of any local competitor's printed ad for an identical product."
The only thing I am not so keen about is the fact that Walmart's Coupon Policy does not allow for automatically doubling manufacturer coupons under $0.50 or $1.00 as many local grocery stores do — you can check out all the different store coupon policies in the Northern Virginia/DC Metro area on my blog resource page.
But I certainly am looking forward to checking out the newest Walmart store in the DC metropolitan area and seeing what low prices they have on produce and other items!  Let me point out that in a 2-mile span on Sudley Road in Manassas, there are: a Shoppers Food Warehouse, Giant Food, Bottom Dollar, Walmart w/ supermarket, and Aldi (coming in Dec. 2009).  That's a lot of competition between grocery stores in such a small space!