Share the post "Aldi in Manassas, VA Open House and Grand Opening Plus $5/$30 Coupon Mailed out to Locals!"
I got this post card in the mail yesterday…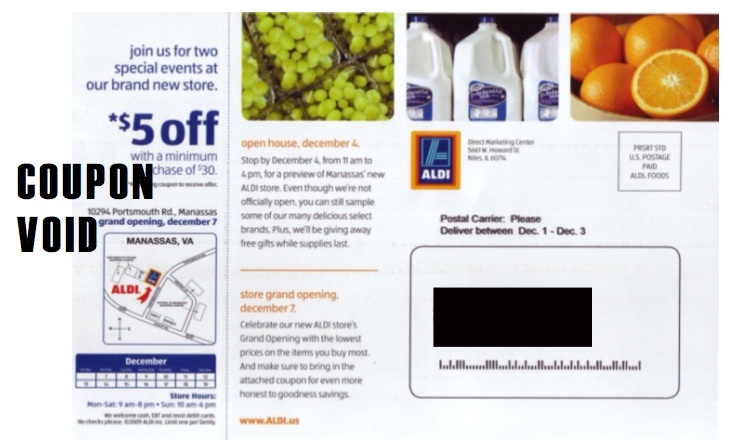 It's in print, and it's official!  The newest Aldi grocery store in Northern Virginia will be located at 10294 Portsmouth Road, Manassas, VA 20109 and they have two special events in the upcoming week.
On Friday Dec. 4th from 11 AM – 4 PM there will be an Open House. You can stop by for a preview of the new Aldi store. According to the postcard: "Even though we're not officially open, you can still sample some of our many delicious select brands. Plus, we'll be giving away free gifts while supplies last." **UPDATE: While supplies last you can get a free Aldi Eco-Friendly Bag (retail $1.99) and there are tons of free samples all over the store including water, juice, iced coffee, juice pouches, crackers, cheese, potato chips, trail mix, chocolate, chocolate eclairs, ice cream sandwiches and more!**
Um, free sample and free gifts? I'm there!
On Monday Dec. 7th at 9 AM is the store's grand opening!
**UPDATE: I was told in the store that they will be open for business on Saturday Dec. 5th at 9:00 AM!**
Store hours will be Mon-Sat: 9 AM – 8 PM and Sun: 10 AM – 6 PM
If you live in the Manassas area, keep an eye out for a post card in the mail with a $5/$30 purchase coupon!