Share the post "Free Eco-Friendly Grocery Tote at New Aldi in Manassas, VA until 4 PM Today"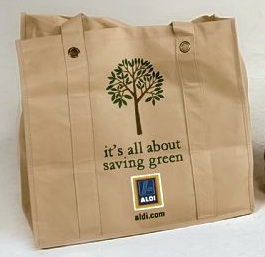 Today my son and I got the chance to go to the Open House Event for the newest Aldi store in Northern VA (located at 10294 Portsmouth Road, Manassas, VA 20109). For more information on the Open House today (from 11 AM – 4 PM) check out my post here.
We had a great time perusing the aisles and price-checking (yay, they have Milk for $1.99 a gallon!) plus sampling lots of free food!
I wanted to let all of you know that Aldi is giving out free eco-friendly grocery totes (retail value $1.99) at their new Manassas, VA store, until 4 PM (for the Open House Event) while supplies last.  If you have time today (in the next 3 hours), head on over to try out some free samples and get your free canvas tote!