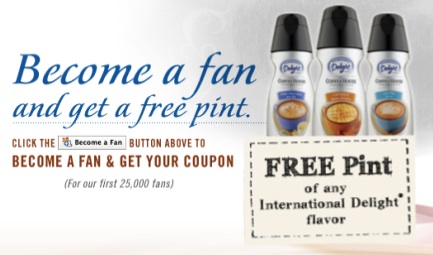 **UPDATE: 12/7/09: THIS DEAL IS NO LONGER AVAILABLE, BUT YOU CAN SEE COUPONS AND CURRENT SPECIAL OFFERS HERE (which currently includes a $0.55 printable coupon)** When you become a FaceBook Fan of International Delight you are able to print a coupon for a FREE Pint of any International Delight flavor coffee creamer. Yay! (Remember some stores have a coupon policy that does not allow for any internet printable coupons for FREE items, such as Shoppers Food Warehouse and I think Safeway –thanks Holly for the list of NOVA area grocery store coupon policies!– so be careful where you choose to redeem this. Expires 1/15/2010).
This is only for the first 25,000 fans, and currently there are about 13,000 fans signed up so try to get this in the next day or so before this offer is gone.
Thanks MoneySavingMom for the tip!