I love getting freebies and coupons in the mail!
Here's a photo of all the freebies and coupons I've either received this week or am going to redeem this week: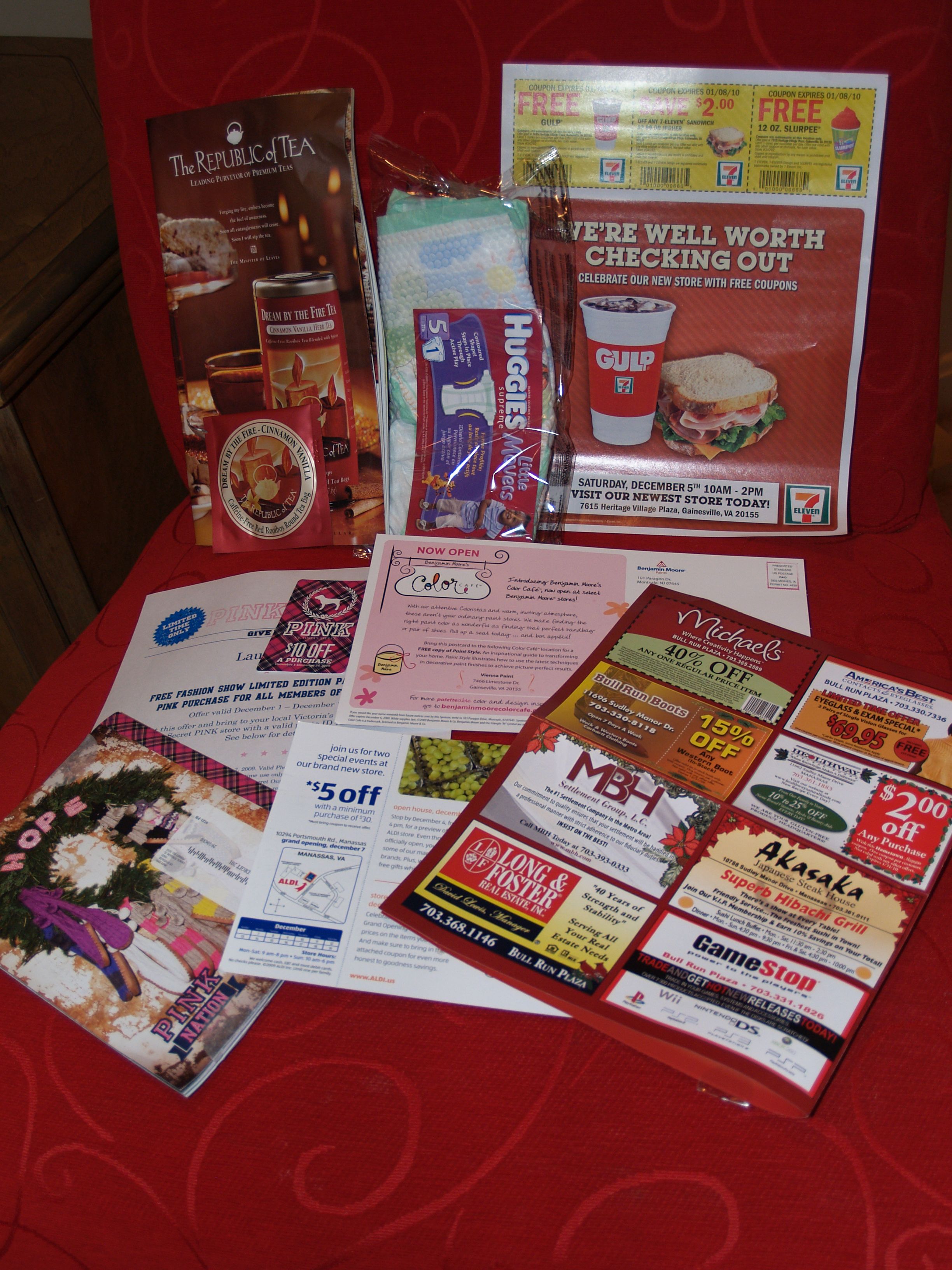 Here's a list of what I got:
Flyer for new 7-Eleven opening in Heritage Village Plaza in Gainesville, VA including a coupon for 1 Free Gulp and 1 Free 12 oz. Slurpee
Booklet and $10 off coupon ($10 minimum purchase) for Victoria's Secret Pink Nation and printed off 1 Free Panty offer with any Pink Purchase (only for Pink Nation members good through 12/7/09). Ended up using these coupons to get 2 Pink panties for only $0.53 (including tax) yesterday. Made sure to buy one Pink panty that retailed just over $10 ($10.50), used my $10 off coupon on that, and then got another Limited Edition Pink panty ($7.50 retail) for free with my printable coupon. Yay!
Another option would have been to buy one Pink Nation lotion for $12, use the $10 off coupon and then also get the free panty: 1 lotion and 1 panty for just $2 plus tax!
Coupon for free copy of Paint Style from Benjamin Moore Color Cafe (my coupon expires on Dec. 6th and I'm not sure I'll get out to my local store in time)
$5/$30 Coupon for the new Aldi grocery store in Manassas, VA opening up in less than a week!
Coupon booklet from Bull Run Plaza stores, with hot coupons like:
$2 off any purchase at Healthway Natural Foods (no minimum purchase amount listed);
Free Tan for new clients at Hollywood Tans in Manassas (first-time customers only. Offer excludes HT Stand Up Booths and Instant Tan);
California Tortilla Free Chips and Queso with purchase of any entrée;
Subway free cookie with the purchase of any value meal;
Zabb Thai Restaurant purchase 1 entrée at regular price and get a 2nd entrée at equal of lesser value for 1/2 price;
Michael's 40% off coupon;
PR at Partners $10 gift towards any first-time service.
Do you want to get great freebies and coupons in the mail too?
Here's a list of current freebies/samples from Walmart:
And here's a great compilation of other freebies from Freebies4Mom.