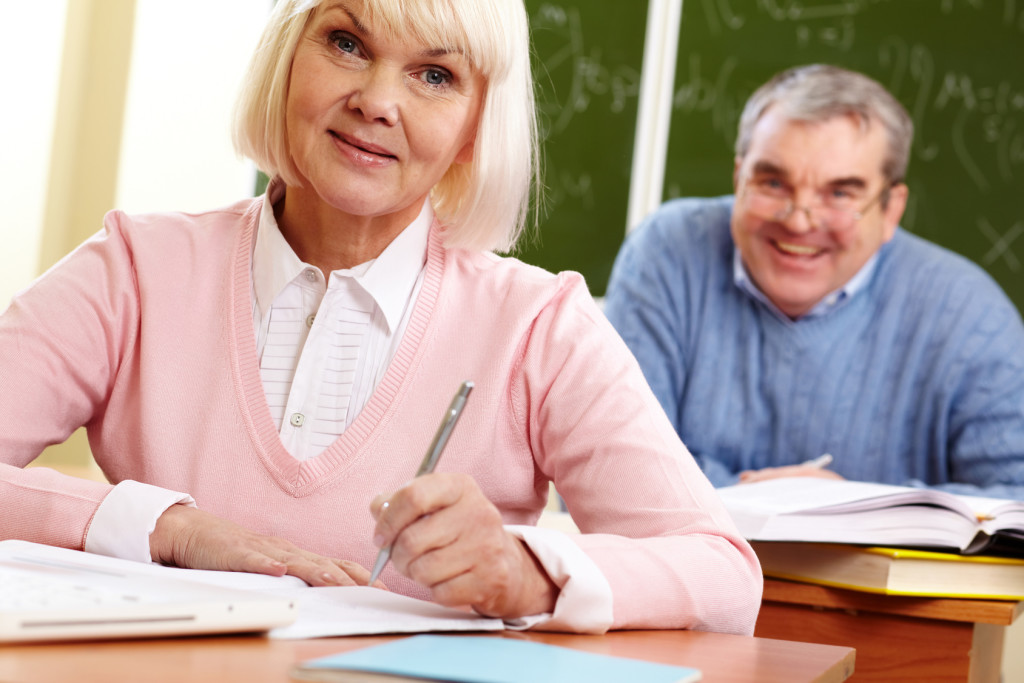 Interested in free college courses for senior citizens at Virginia public institutions? If you are a 60+ year-old Virginia resident, you can apply to take FREE college courses at public colleges and universities inside the state of Virginia.
Free College Classes for Seniors
Thanks to the Virginia Senior Citizens Higher Education Act passed in 1974, you have the chance to expand your knowledge and immerse yourself back in a university setting free of charge. If you'd like to take free college classes for seniors, you can apply to take courses for credit or simply audit classes for free.
The following type of Virginia public colleges and universities participate in this Senior Citizen Tuition Waiver program:
Virginia 4-year Public Institutions
Virginia 2-Year Public Institutions
Virginia Community Colleges
Updated: There are income limitations if you want to take free classes while earning academic credit. However, you can simply audit a class (non-credit) at no charge regardless of your taxable income level.
Virginia Offers Free College Classes For Senior Citizens
Under provisions of the Virginia Senior Citizens Higher Education Act, a person who is sixty years of age with legal domicile in Virginia for one year before the beginning of a semester may enroll in a state institution of higher learning at no cost (tuition and required fees) provided all tuition-paying students are given first priority for class spaces.
Eligibility for Virginia Senior Citizen Free Tuition
According to 8 VAC 40-20-20.
A senior citizen may take courses without paying tuition or required fees, except for course materials, under certain conditions. If the senior citizen has taxable income of not more than $23,850 in the preceding year, the individual may take a course for academic credit free of tuition and fees, except for fees established for the purpose of paying for course materials, such as laboratory fees. A senior citizen, regardless of income level, may audit a course that is given for academic credit or take a noncredit course free of tuition and fees, except for fees established for the purpose of paying for course materials, such as laboratory fees.

No limit is placed on the number of terms, quarters or semesters in which a senior citizen who is not enrolled for academic credit may register for courses, but the individual can take no more than three noncredit courses in any one term, quarter or semester. There will be no restriction on the number of courses that may be taken for credit in any term, semester or quarter, or on the number of terms, semesters or quarters in which an eligible senior citizen may take courses for credit.
Additional Conditions for Senior Citizen Free Tuition:
If you are 60 or older and would like to take a free college course, you will need to contact the admissions office of the Virginia public institution of your choice. You need to apply for admission through the college or university of your choice and complete their own Senior Citizen Tuition Waiver form.
Applying senior citizens must meet all the appropriate admission requirements of that school. The senior citizen may be admitted to a course only if space is available after all tuition-paying students have been accommodated. State institutions of higher education may make individual exceptions to this procedure when the senior citizen has completed 75% of the degree requirements.
Four-Year Virginia Universities With Free Tuition for Seniors:
Two-Year Institutions That Offer Free College Classes for Senior Citizens:
Free Virginia Community College Courses for Senior Citizens:
Sharpen those pencils, grab your books and laptop, and take advantage of this free program for senior citizens in Virginia available through one of these fine public institutions.

Photo credit: She-conomy.com
Note: I attempt to keep the information up-to-date and accurate on this page, however, I advise you to check with the State Council of Higher Education for Virginia to find out if any updates have been made regarding the Virginia Senior Citizen Tuition Waiver.