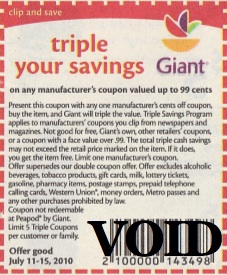 UPDATE:  Make sure to scan each Giant Triple Coupon Voucher BEFORE you scan the applicable manufacturer coupon. I kind of got confused today in the self-checkout lane.
When I opened up my Sunday Edition Washington Post coupon pack (for Sun. 7/11/10) I found amongst the grocery store circulars a Giant flyer with five "triple your savings" coupons good to use with manufacturer coupons up to 99 cents from 7/11-7/15. Limit 5 triple coupons per customer or family, but no mention of a minimum purchase! (This is also been reported to have been found in the Baltimore Sun Sunday edition).
Check out Mrs. Money Saver's Giant match-ups for 7/9-7/15 as well as the Redemption Unlimited Giant match-ups for 7/19-7/15 to find out how your triplers can match up well with current store deals and manufacturer coupons available for some free or cheap items. Some of the highlights appear to be Kix Cereal (select sizes free after printable coupon tripling), Cinnamon Toast Crunch Cereal (select sizes $0.20 or $0.35 after coupon tripling), Ortega Seasoning Mixes (select packets 2 for $0.50 after coupon tripling), Tribe Hummus (select tubs for $0.50 after coupon tripling), Breyers YoCrunch Yogurt Cups (select varieties 4 for $0.90 after coupon tripling). Unfortunately, I'm in a rush this morning and will be out most of the day, but I'm sure you couponers who found the Tripler Coupons in the Post this morning can find some good deals. Please leave a comment with any great deals you find!