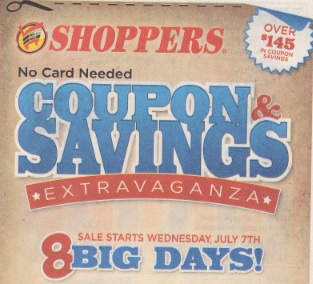 For some reason my mail is really slow… just yesterday I got my weekly grocery store circulars (issued on Thurs. July 8th) and found a new coupon booklet from Shoppers Food that has over $145 in store coupons valid until Wed. July 14th (tomorrow).
I called my local store and confirmed that these store coupons can be combined with manufacturer coupons!
Some highlights, in my opinion, included:
$0.79 for a dozen Large Grade A Eggs (limit 1)
Pepsi 24-pack 12-oz. cans $3.99 (limit 2)
Minute Maid Premium Orange Juice, 64-oz. carton $1.99 (limit 1)
Select General Mills Cereals (Cinnamon Toast Cruch 17 oz.; Cheerios 14 oz. box; Chocolate Cheerios 11.25 oz. box; Golden Grahams 16 oz. box; Lucky Charms 11.5 oz. box)
2 for $3 (limit 2)
- $0.55 Cheerios IP Coupons.com Doubled = $0.40 per box
- $0.60 Cinnamon Toast Crunch IP Coupons.com Doubled = $0.30 per box
Charmin Basic 12 Big Rolls Bath Tissue $3.99 (limit 1)
Lawry's 12 oz. Marinades $0.99 (limit 1)
I feel like there is a Lawry's coupon available from an insert, but am having trouble finding it
Did anyone find any other great Shoppers deals this week? Please leave a comment and share!