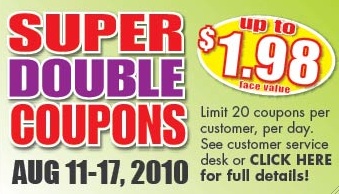 Good news for all us avid couponers: Jenny from Southern Savers is reporting here (with a great coupon match-up list) that Harris Teeter is offering their special "Super Double Coupons" promotion at their grocery stores this week (starting tomorrow, Wed. August 11th- Tues. August 17th, 2010). The Hot Coupon World forum for Harris Teeter is also reporting Super Doubles here.
For Super Doubles, Harris Teeter will DOUBLE manufacturer coupons with a face value of up to $1.98. That means $1 coupons will double to $2 off! $1.50 coupons will doubled to $3 off (and so on)! They have a limit of 20 coupons per day, which in my experience is enforced by use of your VIC card.
I am always a little hesitant to post this before I've seen the actual weekly circular, or hear directly from store management… However, I wanted to share that Super Doubles is being reported to happen at HT starting tomorrow, and that it seems likely that it will happen. *UPDATE* This special Super Double Coupon Deal has been confirmed and is on the Harris Teeter website this morning, Wed. Aug. 11th!
Start sorting those $1+ coupons!
Thanks Southern Savers!