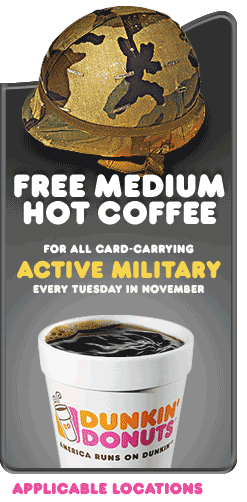 Military service men and women, you're in for a treat this month! Participating Dunkin Donuts locations in the DC Metro area are offering all card-carrying active military (or those who show up in uniform) a FREE Medium Coffee on Tuesdays in November 2010!
So be sure to take advantage of this offer today and each Tuesday this month, as a special thank you for your service!
Another way that Dunkin Donuts is supporting our troops is through a USO Coffee Donation: Now through November 14th for every guest who purchases two one-pound bags of DD packaged coffee, local franchisees will donate an additional one-pound bag to the USO. (For more information, see press release here.)
Nationwide, the Dunkin Donuts participating areas for the free medium coffee deal include: Maryland, District of Columbia, and Virginia including the Greater Baltimore metropolitan area, Greater Washington metropolitan area, Salisbury, MD and surrounding area, Greater Roanoke, Greater Harrisonburg, Greater Richmond, Greater Charlottesville and Greater Hampton Roads (Williamsburg/Newport News/Norfolk/Outer Banks, NC and Jackson, NC).
For more information on the Dunkin Donuts Local Heroes program click here.
Thanks to the local DC Dunkin Donuts Twitter Team!