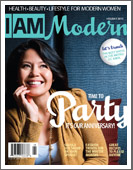 I'm excited to share with you that my blog was recently featured in I Am Modern Magazine, the locally published magazine for women! You can read the article featuring me as a "Modern Woman" from the 2010 holiday edition here.
I have to admit, when I was first approached about being featured as a "Modern Woman," my initial response was "are you sure you want to feature me? Afterall, I'm a couponing, stay-at-home mom who blogs." I was definitely honored (and surprised) that they'd want to feature me alongside such local celebrities as tv-journalists Angie Goff, Lauren Ashburn, Kimberly Suiters, and local, successful entrepreneurs such as Heidi Kallett and Addie Zinone. I can honestly say I feel a little bit out of my league!
A special thanks to reporter Lindsey Williams for the interview, kind words and reminder that "modern" doesn't have to mean the most trendy or fashion-savvy lady; modern can also be a savvy shopper trying to live well on less.