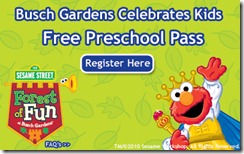 With the warmer weather (mostly) here to stay, our family is starting to contemplate more day trips and possibly our first trip to an amusement park… with two kids!
Busch Gardens in Williamsburg, VA is offering a sweet deal for preschoolers now through September 5th, 2011 that I wanted to share with you:
Virginia Preschool-aged children (ages 5 and under) can get FREE Preschool Passes which grants them unlimited FREE admission to Busch Gardens Williamsburg through September 5th, 2011. You must pre-register online to receive your eVoucher, which you'll need to print out and bring along with a certified copy of your child's birth certificate on your visit to the park. Please note that the normal admission fare for children is $53 (just for a 1-day pass), so you'll save big with the Preschool Pass!
For adults and kids older than 5 who plan to accompany your Preschooler at the park, you can purchase a Fun Card for $63.99 per person (same price as a one-day ticket). The Fun Card grants the person listed on the pass/ticket unlimited admission through September 5th, 2011. When registering for the Preschool Pass you should see the option to purchase a Fun Card, or you can purchase one here.
Another deal available (though not quite as good as the Fun Card) is a special offer to Bring a Friend for Free. Through May 22, 2011, Virginia residents can receive a 2nd ticket free with the purchase a single-day adult admission to the park.
The park just opened a few weeks ago for the 2011 season, so be sure to sign your Preschooler up for this free pass soon if you want to maximize the number of visits over the next 5 months.
Thanks to Gina from Moneywise Moms for sharing this awesome deal!