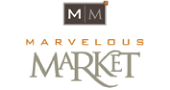 Marvelous Market is currently offering new e-Club members a $5.00 coupon.
Not familiar with Marvelous Market? It is part bakery, deli, cafe and gourmet food shop with 10 locations in the Washington, DC metropolitan area. Although it doesn't specify if a minimum purchase is necessary, the $5 coupon should get you a free coffee or pastry, or land you a cheap breakfast or lunch.
This offer is for new registrants only. For more information, click here. To sign up for their e-Club, click here.