Share the post "National Flip Flop Day – Free Smoothie Tomorrow!"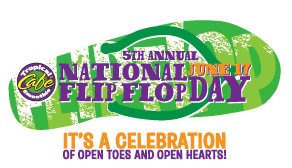 Tomorrow, Friday, June 17th, 2011, Tropical Smoothie Cafe is once again celebrating National Flip Flop Day by giving away a free smoothie to the first 500 people who show up at each store in flip flops.  To find your closest store, click here.
In previous years at my local store in Centreville, VA they had a prize wheel that you could spin if you donated $5 to their charity Camp Sunshine.  Prizes included a mug, $10 gift card, gift from the "treasure chest", and the most valuable item: A Year Of Free Smoothies.
So mark your calendars and take your whole flip-flop-clad family or group of friends over there this Friday, June 17th, 2011 for a yummy smoothie on the house!