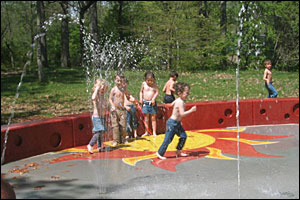 Image courtesy of www.arlingtonva.us
Today the weather forecast is over 100 degrees…it's going to be a scorcher! On hot summer days like this, the kids and I enjoy one of two things:
staying inside and enjoying the air conditioning…. or
splashing around at the pool or spraygrounds!
If you are tired of being cooped up inside, I wanted to share these fun blog posts from other local moms sharing which DC-area spraygrounds are the best (and free!):
What are your favorite summer-time activities to cool down here in the DC metro? Please leave a comment and share!