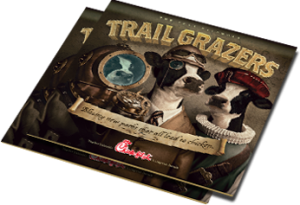 *This contest is now closed. Congrats to the following winners: Sandi (sander06@), Mary (cmsoliday@), Angie (a_doster), Ashley (hewella1@), Reagan (tylerandreagan@), Mia (mia_royal1@), Veronica (rvadams@) & Clauudia (cdalton87@).*
I'm a big fan of all of Chick-fil-A's fun promotions, events and coupons throughout the year. Did you know one of my favorite places to find Chick-fil-A coupons is in their cow calendar? The calendar is a great stocking stuffer, but we always get one for our own family because we know we'll use the coupons up for ourselves!
The 2012 Chick-fil-A Cow Calendar features the renegade cows in their never-ending battle against burgers. The theme of this year's calendar is "Trail Grazers" – and the cows' message while on amazing adventures and travels is still the same: eat more chicken.
You can buy these fun calendars in participating Chick-fil-A restaurants for $6. The calendars include 12 coupons (1 each month) worth over $35 in Chick-fil-A food and beverages:
January: Free Chick-fil-A Nuggets (8-count)
February: Free Small Bowl of Hearty Breast of Chicken Soup
March: Free Simply Orange Juice or Dasani Bottled Water
April: Free Large Diet Coke
May: Free Chick-fil-A Chicken Biscuit or Large Waffle Potato Fries
June: Free Large Coca-Cola Zero
July: Free Small Hand-Spun Milkshake
August: Free Spicy Chicken Sandwich
September: Free Large Coca-Cola
October: Free Chargrilled Chicken Sandwich
November: Free Chick-n-Minis (3-count) or Yogurt Parfait
December: Free Large Sprite
And I'm pleased to be hosting a giveaway for a free 2012 Chick-fil-A calendar! There will be 8 winners (yes, that's right, EIGHT!) and you won't just receive this lovely calendar, you'll also get a gift card for a free small Peppermint Chocolate Chip Milkshake valid at any participating Chick-fil-A restaurant (expires at the end of this year 12/31/11).
To enter:
Simply comment below!
Additional optional entry: Like BeltwayBargainMom.com on Facebook and leave a comment letting me know that you have done so. If you're already a fan, leave a comment and let me know. Note: In order to comply with Facebook rules, please remember that it is not the act of liking the page that is the additional optional entry, it is the act of then commenting here that counts as your entry.  Please do not feel compelled to like my page if you are not interested in receiving Facebook updates from BeltwayBargainMom.com.
Additional optional entry: Follow @BeltwayBargain on Twitter and tweet about this contest with a link back to this page. Be sure to come back and leave a comment here with the Timestamp of your tweet.
Here's a sample tweet: Enter to win a #free @ChickfilA 2012 Cow Calendar via @BeltwayBargain Enter now thru 12/5 http://bit.ly/vfRhdu #coupons
Entries are open through Mon. 12/5 11:59 pm ET. Limit of up to 3 entries per person (you must leave a separate comment for each entry). This contest is open to anyone within the contiguous United States. Eight winners will be randomly selected next Tues. 12/6 and contacted via email to confirm mailing address where the calendars & gift card will be sent.
Good luck and be sure to check out my other giveaways currently going on, by visiting my "Contest" portion of my blog here.
Disclosure: I was provided a free calendar & milkshake by the fine folks at Chick-fil-A as well as calendars and gift cards to give away on my blog. The opinions shared here are my own. I love Chick-fil-A and wanted to share this fun giveaway with you all! To read my formal disclosure policy, please click here.