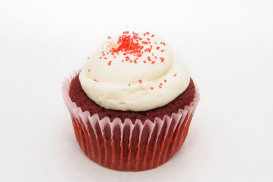 It's that time again:  a sweet weekly freebie… show off a talent on "Talent Show Tuesday" at Red Velvet Cupcakery and earn a free cupcake! Today, Tuesday, January 31st, 2012, when you show off a talent you can get a free cupcake at your local Red Velvet Cupcakery (2 DC locations in Penn Quarter & Dupont, plus 1 in Reston VA). Get ready to dance, sing, recite a poem, juggle or do a cartwheel (plus give the Red Velvet staff some entertainment for the day

). Your talent can be anything, so be creative.
The free cupcake offer is limited to the first 50 customers at each location. No purchase necessary. For more information, click here. To find the address of your closest cupcake shop, click here.