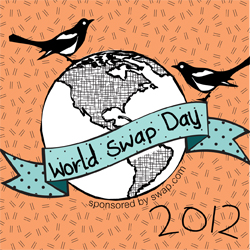 Image courtesy of Swap.com
Need a new wardrobe, but don't have the wiggle room in your budget? Then you'll be excited to hear that this Saturday, January 21st, 2012 is World Swap Day! You can trade in your clothes for some new-to-you items! This sounds perfect for any frugal fashionistas out there. Here are some local swap events taking place here in the DC metro area:
Celebrate World Swap Day with the DC Goodwill Fashionista
Date: Sat. January 21st 10:30 am
Location: Goodwill's Arlington Career Campus at 10 South Glebe Road, 2nd Floor
Arlington, VA 22204
Price: $5.00
Get tickets here. Must purchase online. Tickets will not be sold at the door.
Peace.Love.Swap Children's Clothing & Gear Swap
Date: Sat. January 21st 5:00 pm
Location: Jonah's Treehouse at  2121 Wisconsin Ave NW #55, C1 Level, Washington, DC 20007.
Price: $5.00 (only for online registrants) or $7.00 at the door
Get tickets here
Swap 'Til You Drop Part 3, Celebrating World Swap Day 2012
Date: Fri. January 20th 6:00 pm
Location: Black Eyed Susie at 3443 14th St NW #2, Washington DC
Price: $10.00 with at least 5+ items to swap
Get tickets here
Update: Tickets appear to be sold out online
If you're outside the DC metro area, you can check here for other swap events taking place around the world. If you are a frequent "swapper" shopper, leave a comment and let me know how you like it and any great tips you have for new swappers!