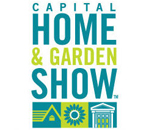 *This giveaway is now CLOSED* Congrats to winners: Kelly, Carolyn, Karen, JennB & Heather! The winners have all been sent an email, and tickets will be mailed out upon verification of mailing address.
Ready to get your garden in gear this spring or tackle your next home-improvement project?
Friday, February 24th – Sunday February 26th, 2012 is the annual Capital Home & Garden Show at the Dulles Expo Center in Chantilly, VA. My family and I have attended this event for years because of my husband's home-improvement business and really think it's one of the best home shows in the DC  metro area. If you're looking to take on a home or landscaping project, if you enjoy gardening, or want to see an HGTV star in person, you'll definitely want to attend!
Some of the highlights of this year's show include:
Kimberly Lacy, celebrity designer from HGTV's "Curb Appeal: The Block". Appearing Saturday & Sunday to discuss how to create textured walls in 3 easy steps and make faux granite countertops. Schedule of appearance is listed here.
Mike McGrath from WTOP News Radio will share his expertise in gardening. Appearing Friday, February 24th only. His sessions include: "Get Your Lawn Off Drugs!" (11:00 am), "Grow your best tasting tomatoes ever" (1:00 pm), "Organic Answers to your Toughest Garden Questions" (3:00 pm).
Dream Gardens – Stroll through the Ideas Gardens created by the region's top landscaping companies and featuring the newest gardening techniques and designs. These are some grand-scale gardens with whimsical themes even set to music; lots of fun to check out!
Floral Showdown – Let your inner florist shine and see if you can outdo the contestants in this floral showdown. Join Mix 107.3's Aly from the Jack Diamond Morning Show and Kimberly Lacy of HGTV on Sat. February 25th for this floral design contest.
Experience the Orchid: live performances on Saturday & Sunday. Show times listed here.
Plus visit exhibits representing local companies and contractors in the design, garden and home improvement-related industries.
Kids 5 and under have free admission and children 6-12 years old are only $3.00 per ticket. Regular adult admission is $10.00, but right now you can order online here and use code "FCBK" to get adult tickets for only $5 each.
And I'm happy to have the opportunity to giveaway 2 free adult tickets to 5 lucky winners! You have up to four ways to enter and must leave a separate comment on this blog post for each valid entry:
Simply leave a comment on this blog post by Thursday 2/16/12 11:59 pm ET letting me know you want to attend the home & garden show.
Extra entry given if you share your favorite item in your home or garden (it could be a favorite room, favorite piece of furniture, favorite decor item, favorite plant, etc.). You must leave this as a separate comment from the first entry.
Extra entry given if you follow on BeltwayBargainMom.com on Facebook and Home & Garden Events on Facebook (you must leave a comment letting me know you follow in Facebook).
Extra entry given if you follow both @BeltwayBargain & @CapitalHomeShow on Twitter and tweet about the giveaway. Here's an example tweet:
"Want #FREE tickets to @CapitalHomeShow in Chantilly VA Feb. 24-26? Enter by 2/16 via @BeltwayBargain http://bit.ly/zvv1LG"
(you must leave a separate comment letting me know you follow on Twitter and provide the time stamp/link to your tweet).
This giveaway is open through Thursday 2/16/12 11:59 pm ET. I will randomly choose 5 winners on Friday 2/17/12, will email them notification, and mail out the tickets soon thereafter.
Good luck and gear up for the spring by attending the Capital Home Show coming up in less than 2 weeks!
Disclosure: Thanks to the Capital Home Show for supplying these free tickets for 5 Beltway Bargain Mom readers! The opinions shared in this post are my own, and I love to share great deals, local events and giveaways for my readers!