Share the post "Guest Post: Organize At Home For Less With Vintage Bargains"
I had the pleasure of guest posting for the DC Goodwill Fashionista last week (please be sure to check out my "Beltway Bargain Mom's Favorite Vintage Pieces" guest post and leave a comment letting me know your own vintage frugal finds!).
Today, I'm pleased to have the DC Goodwill Fashionista guest blogging here at Beltway Bargain Mom! The DC Goodwill Fashionista Blog offers the best in vintage and contemporary fashions, plus shopping tips and trends from across the Internet. You can join the DC Goodwill Fashionista Monday through Friday as she brings you what's hot in fashion, including Tuesday's "Goodwill Good Buy of the Week." Frugal and fashionable – a fantastic combination! So without futher ado, I give you the DC Goodwill Fashionista:
Organize At Home For Less With Vintage Bargains
Guest Post by the DC Goodwill Fashionista 
We've traveled into 2012 enough to acknowledge that many of our new year's resolutions are going to fall by the wayside. But one of my goals is to stay organized at home, and I'm sticking to it. I'm determined to declutter and streamline in 2012!
My goal may be noble, but trips into my local storage store (you can probably guess the two I'm thinking of) make my head spin. There are tons of storage options…and they all come at a price.
I want to put everything in its place, but I don't want to go broke doing it!
Luckily, I know that I can go to my nearest Goodwill location and get something that works for my space and my budget. I breathe a little easier when I spot an underbed drawer, file box, or bookend at a fraction of the regular cost. Sometimes I find mint-condition items that I've just seen at the big-box stores. Sometimes, I'm able to grab vintage options that do the trick with a little character.
Mind if I share some of my favorites? Maybe they'll provide a little inspiration for your organization goals!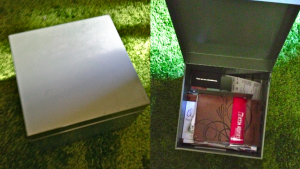 I'm always finding these compact file boxes at Goodwill. They're usually dull silver or olive drab, and are a blank canvas for anyone who likes to decoupage, paint, or otherwise decorate their storage. These boxes are great to store greeting cards, business cards, or other small paper items you don't want to lose track of. I use one for business cards, postcards, and flyers from fashion events or shops I've visited. I like grouping all my fashion and arts contacts in one place, and some of the cards I've received are practically works of art themselves!
Cost: About $1 each.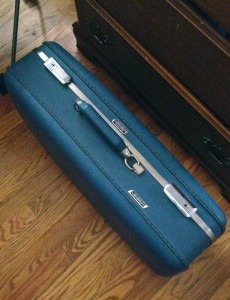 When it comes to vintage luggage, I'm insatiable. But hard-sided suitcases that lack wheels aren't exactly practical in today's travel world. So I stick this one under my bed. What's in it? Holiday gifts! I shop year-round and pick up bargains or small items I know my friends and family will love. I keep everything in this suitcase so I don't lose track of anything when the holidays roll around. For bigger, bulky items, I usually wait until the holiday or birthday draws near. For those pocket-sized gifts, I'm ready with my trusty suitcase storage!
Cost: No more than $5.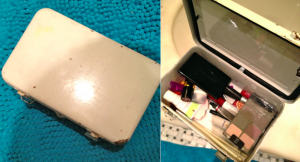 I can only imagine that this white metal box (with a fun handle and clasps) was once a first-aid kit. So I keep it in my bathroom for those little items that always get lost. Right now it's full of makeup and product samples. If you're a Birchbox subscriber or always have a ton of beauty samples, a small box like this might do the organizational trick for you.
Cost: $2.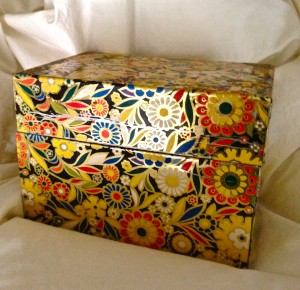 And for everything else…well, I just try to put it all in something pretty! This metal recipe box is covered in colorful flowers. (It absolutely has to be from the psychedelic 1970s!) It's empty…for now. I'm not much of a cook, but I'm sure I'll find something else to store in this bright box!
Cost: $0.50. Yep!
I may never have my things organized as well as magazines present in their home pages, but I'm always trying. When I have all these bargain storage containers closed, no one knows if there's a bit of clutter inside them!