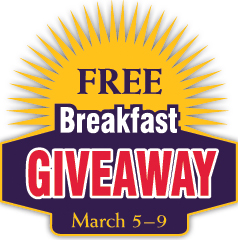 Coming up next week is the return of one of my favorite freebies (because of my love for breakfast foods and for Chick-fil-A as well):
FREE pre-selected breakfast items at participating Chick-fil-A restaurants in the Washington, DC metropolitan area! Starting Monday, March 5 through Friday March 9, 2012 all you have to do is show up during breakfast serving hours (usually until 10:30 am) to claim your freebie; no purchase required. Limit 1 per person, per day. I suggest calling your local Chick-fil-A restaurant to confirm participation, but last February and last September the majority of locations in Northern VA & the DC metro were participating!
Thanks to the wonderful folks at Chick-fil-A Sudley Manor & Chick-fil-A Ballston Common for the info!