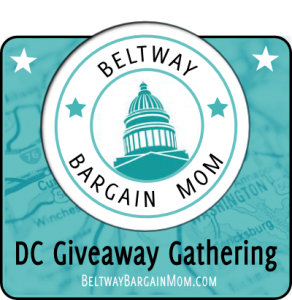 Have a blog giveaway happening this week (May 23rd – May 29th, 2012) that you'd like DC-area folks to enter? Whether it's a hyper-local giveaway (ie. tickets to the Kennedy Center or a gift card to a locally-owned boutique) or a giveaway open to anyone nation-wide, you can share your giveaway link here! For the URL field, please list the direct link to your blog post (not a link to your home page). Then for the "name" field please list your site name, the prize you are giving away and the contest end date.
Example: BeltwayBargainMom- $20 Starbucks Gift Card (5/29)
All giveaways listed must be suitable for a family-friendly audience and completely free to enter. Bloggers & local businesses with blogs are welcome to list their giveaways here at the DC Giveaway Gathering hosted by Beltway Bargain Mom. No matter where you live, if folks here in the DC metro area can enter your giveaway, feel free to link-up here. If you are reading this from your e-mail newsletter subscription or reader, please click here to be taken to the giveaway link-up on my site. Good luck everyone!
[inlinkz id = 10]