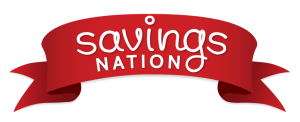 Thanks to everyone who came to my Savings Nation workshop last week in Burke! I really enjoyed sharing realistic couponing, strategic grocery shopping and meal planning made simple. It was great to connect with other savvy shoppers and beginning couponers as well as have some awesome bloggers and local small business owners in attendance like, Super NOVA Mommy, Red Berry Deals, Fairfax Family Fun, and Teach Speech, LLC. Class attendees got to learn some of the basics of grocery savings, plus take a workbook home, and thanks to the Washington Examiner they received a copy of the Sunday paper and coupon inserts (to start or add to their coupon collection)!
I'll be adding approximately two classes per month now through September. So stay tuned for announcements on more Savings Nation workshops here to the DC area! If you don't mind, please fill out this quick survey, which will help me determine the location of future classes and direction/interest of these classes. So far I've gotten requests to hold classes in Fairfax, Manassas and Ashburn, and would like to offer classes at a variety of locations in Northern Virginia and DC. The June classes will hopefully be announced in the next week or two (since June is right around the corner…er tomorrow!). You can find a list of all Savings Nation classes that are scheduled and being offered across the nation, by checking out the main class page here.
I hope to see you at a future Savings Nation workshop here in our Nation's Capital and thanks again to everyone who came to my Burke VA savings workshop!