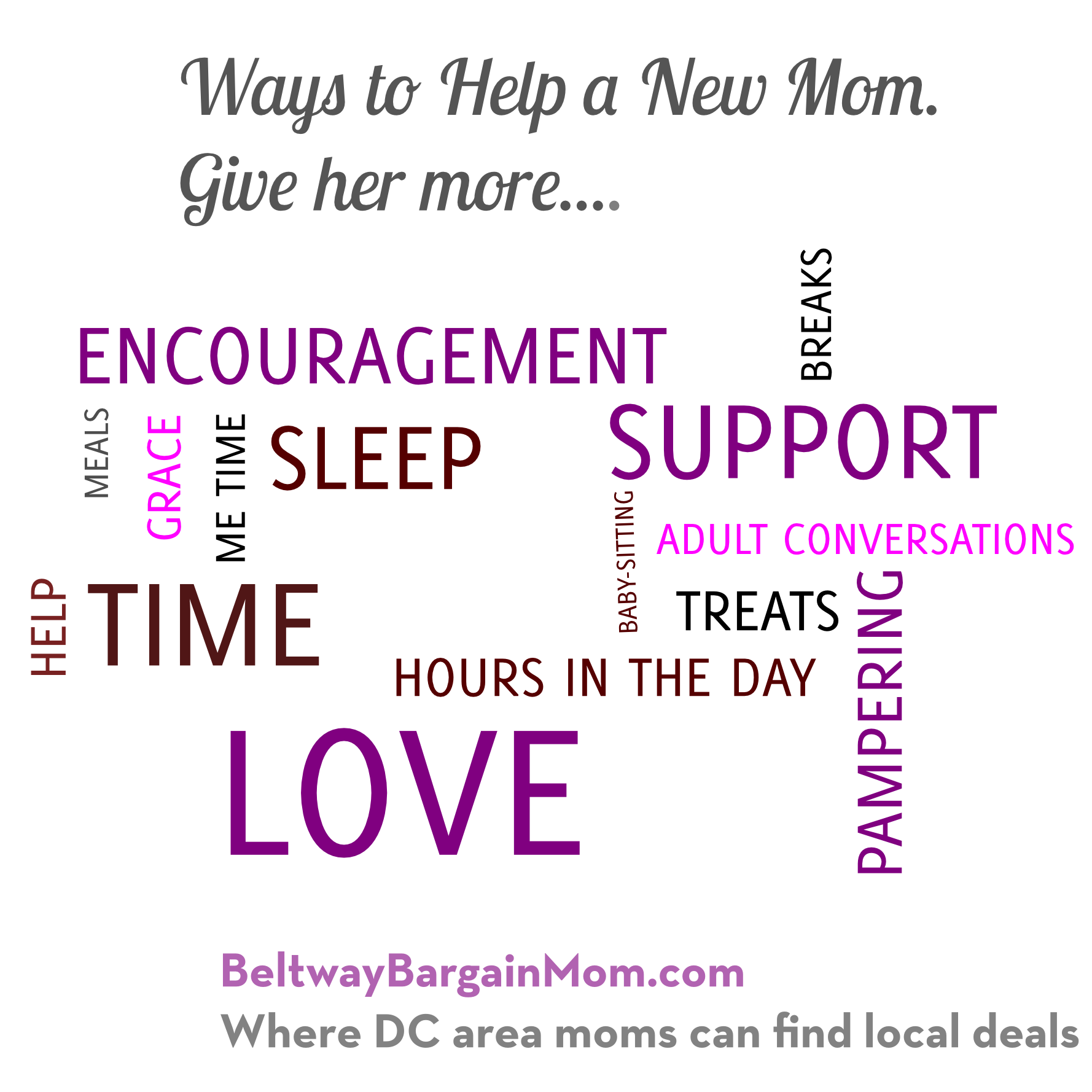 Mother's Day is coming up soon, and I happen to have a few friends with new bundles of joy, including my own "baby" sister. Maybe you know a new mom and are wondering ways you can help, without busting your budget. Whatever the condition of your finances, your time is worth so much to a new mom! Here are 10 simple things you can do to celebrate and bless a new mom:
Let her sleep! During those first few weeks (or months… or years…) a new parent is lacking sleep in a major way. If you can offer to come over and watch the baby for a few hours and let momma nap, you'll be a hero! Sleep deprivation can really wear a new mom out. For military wives here in the DC area whose husbands are deployed, you can request or be nominated to receive free overnight newborn care through Mission Sleep!
Give her a helping hand with household chores. Schedule a time to come over and help load the dishwasher. Inevitably with a newborn, these items get neglected. Unless you are Martha Stewart or incredibly on top of things. These are practical items that a new mom needs help with but often times is afraid to ask for help.
Make a meal. Or two. Or three… this is probably my favorite way that my own friends & family have blessed me when I had a newborn. Moms of newborn babies are strapped on time and energy. Making a meal is a huge help! It means less stress about cooking and executing a meal, plus freeing up a new mom from planning out that evening's meal or needing to buy those ingredients at the grocery store. HUGE HELP! Can I emphasize that enough?
Coordinate a meal calendar among her friends and family. Take the initiative and help set up a meal calendar so others can sign up to make and deliver a meal for the new mom. Some great online scheduling sites that I've used, that are free and easy to set up are:
Meal Baby
Take Them A Meal
Care Calendar
Provide "adult" conversations. You might be surprised by how isolated many new moms feel from their other adult friends. With a new baby your days revolve around feedings, burping, diaper changes, messy cleanups and everything "baby".
Offer to baby-sit. Whether that means watch the baby or take older siblings out for a play date, helping watch the kids while mom gets a break (or gets to run errands without distractions) is a big help!
Ask her how you can help. Sometimes a new mom has needs that you don't even know about. Let her know that you are available to help whatever it is.
Find interesting or funny podcasts for her on topics that she's interested in. As a new mom, you spend many hours sitting and feeding a newborn. It's nice during that time to be able to do something engaging. I was never able to concentrate enough to read a book while nursing (I'm not that coordinated and the baby would always move a lot), and watching movies or shows got old really quick. I found podcasts to be more interesting (and felt like a better use of my "down" time).
Bake her some treats! Muffins, cookies, cupcakes, or whatever you'd like. She's sure to appreciate the sweet treats and thoughtfulness.
Make a fun DIY craft or new mom gift. Check out my Pinterest Board "New Momma" for some of my favorite finds. You can create some great personalized gifts on a tight budget by going the DIY route.
Remember, your time and effort (not just gifts) mean so much to a new mom! No need to spend a lot of money on expensive specialty baby gifts or spa days for a new mom (although those can be nice)… it's often the simple and inexpensive gestures that can mean the most to a new mom. And be sure to share your own time-saving and money-saving tips with new moms; those are invaluable items and life skills that will help her out in the long-haul.
Do you have your own tips for ways to bless a new mom? Or maybe you're a new mom and have some additions to this list? Leave a comment and share!