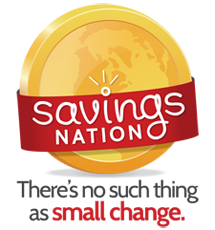 Tomorrow, Thursday June 28th, 2012 at 9:30pm ET, I'll be co-hosting a Twitter Party along with my friends Ashley @Savings, Melissa @SavingSense, Shellie @SaveWithShellie & Sarah @GiveMeNeither
We'll be discussing how to have a Frugal 4th of July!
RSVP here for a chance to win some awesome prizes! Here are the details:
When: Thursday, June 28th, 9:30pm ET
Where: On Twitter using the #SavingsNation hashtag, join the Tweet Grid, or join the Tweet Chat Page.
What: There are several questions we will tweet & discuss. Be sure to use the hashtag #savingsnation to be eligible for the prizes.
What are your 4th of July plans?
Do you grill out or order take out for your 4th of July celebrations?
If you have a cookout, do you send out invites or evites?
What's your favorite low-cost meal to make for the 4th?
Do you have any party games that have a 4th-theme?
Who has the best fireworks shows in your area?
Memories are free! Do you have a special 4th of July memory?
Prizes: (1) $100 grocery gift card, and (2) $50 grocery gift cards. 
RSVP: Submit your Twitter handle here to RSVP.
Fine Print: Must put your Twitter handle below AND be present at the party in order to win a prize. Use the Twitter hashtag #SavingsNation in your responses to questions to be eligible. Must be 18 years or older to win.
Hope you'll join me tomorrow for a fun Twitter party!