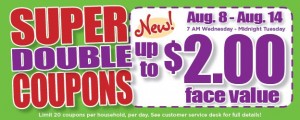 It's Super Double Coupons again at Harris Teeter! From Wed. August 8th – Tues. August 14th, 2012.
In case you're new to the term "Super Doubles," Harris Teeter grocery stores will DOUBLE manufacturer coupons with a face value of up to $2.00. That means $1.00 coupons will double to $2.00 off! $1.50 coupons will double to $3.00 off! $2.00 coupons will double to $4.00 off, etc. They have a limit of 20 coupons per day, which is enforced by use of your VIC card.
For some great coupon match-ups that you can use today, check out Coupon Teacher's post here as well as Southern Saver's post here.