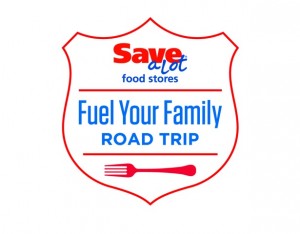 Save-A-Lot grocery are on the final leg of their annual Fuel Your Family Road Trip. Save-A-Lot selected two "Road Scholars," Alex and Molly, who are recent college graduates, to travel 2,000 miles and cross 13 states in July and August to help raise awareness for Save-A-Lot as the go-to destination for affordable, high-quality food.The Road Scholars will visit a Save-A-Lot store in the DC area tomorrow, Friday August 17, 2012.
Location: Hyattsville Save-A-Lot store (5615 Sargent Road, Hyattsville, MD 20782)
Date: Friday August 17th from 2:00pm-4:00pm
And Save-A-Lot wants to give you wonderful blog readers some fun freebies at the event! The first 5 Beltway Bargain Mom readers who find Alex and Molly tomorrow in-store and say they read BeltwayBargainMom will receive FREE gift cards and product samples! I've been told the gift cards will be in $5 and $10 varieties. Woot!
You can learn more about the Fuel Your Family road trip by visiting Save-A-Lot's Facebook page here. If you're planning to go to the event, please let me know! It sounds like a great way to learn more about Save-A-Lot and win some free grocery gift cards and products!