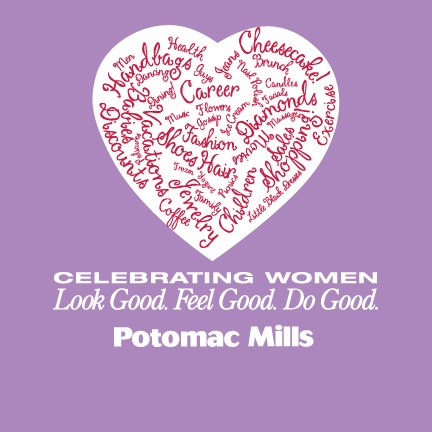 Earlier this month I got to attend a fun blogger preview event of the upcoming FREE Potomac Mills Celebrating Women "The Runway Event hosted by Real Life Style." I had a blast meeting Lani Inlander, Owner and Chief Stylist from Real Life Style, plus other local fashion/shopping bloggers. And I'm excited to share about this free fashion event coming up this weekend! The fashion show will feature the season's hottest trends from designer brands available at stores in the Fashion District.  Everything on the runway will be available for purchase from Potomac Mills' collection of chic stores.
WHAT: Celebrating Women Runway Event Hosted by Real Life Style
WHERE: Potomac Mills, Neighborhood 1 Fashion District (Woodbridge, VA)
WHEN: Saturday, September 22, 2012 at 2:00 pm
PRICE: FREE!
QUICK SYNOPSIS: Come enjoy a fashion show highlighting the latest designer looks for less from Potomac Mills. Stylist Lani Inlander of Real Life Style will be headlining this event, and her work has been featured on The View, The Oprah Winfrey Show, Soap Net, the Washingtonian, and more!
Following the show, enjoy a Q&A with Lani, complimentary refreshments, a wine tasting (must be 21 years or older) and live a cappella music by the Virginia Belles (from UVA). You'll enjoy exclusive discounts, an after party at Bloomingdale's – The Outlet Store and "Style Stops" at participating stores.
Be sure to RSVP to Rachel Ware rware@simon.com and mention you're a Beltway Bargain Mom reader and would like to attend this event. The first 50 people to RSVP via blog referrals, will each receive the Runway Event VIP Experience, which features reserved seating and a fabulous swag bag including a $20 American Express/Simon Giftcard (note, you must attend the event to get your swag bag)! To get the swag bag and $20 gift card, you must RSVP and mention Beltway Bargain Mom.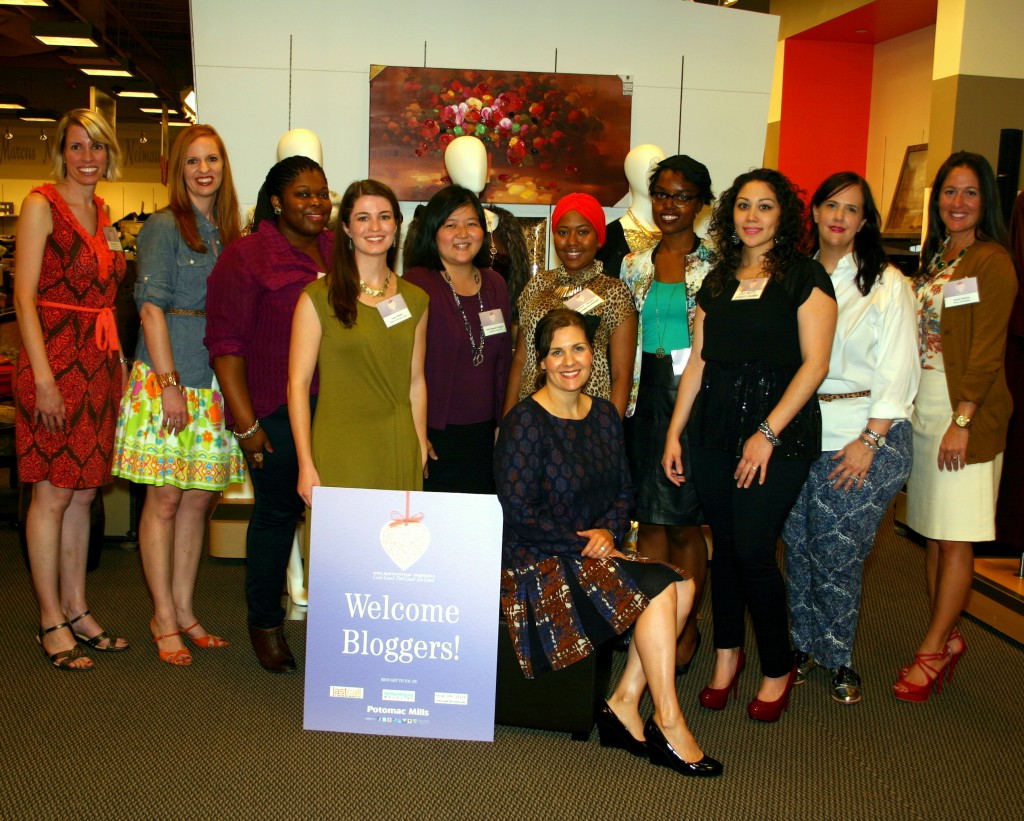 Group shot of the bloggers in attendance at the Celebrating Women Preview Event.
I loved meeting fashion bloggers here in the DC area! I'm a "frugal blogger" so I don't get to rub elbows with the elite fashion bloggers that often

Great group of gals who know the trends!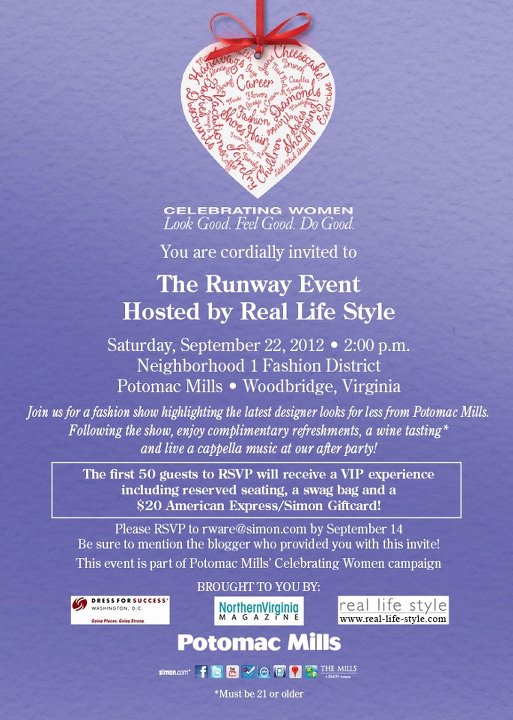 Official invite with all the details you need! Disregard the September 14th deadline, you still have time to RSVP!
Disclosure: I was invited to attend the Potomac Mills Celebrating Women VIP Blogger Preview event and received a gift bag at the event. I was not compensated to write this post. The opinions shared in this post are my own, and I love to share great deals, local events and giveaways for my readers! To read my formal disclosure policy, please click here.