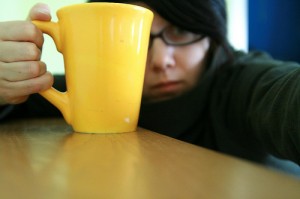 Overwhelmed & Hiding Behind My Coffee Mug….
Image courtesy of MassDistraction on Flickr
I'm so sorry for not getting the Giant grocery store complete deal posts published over the past few weeks. Truth be told, I have been running non-stop, and although I did not publish the complete deals on my site, I was able to pull together the highlights and submit those top deals to Money Saving Mom & Mrs. MoneySaver. What's frustrating is that I have had draft modes up on my blog each week, and just never got the posts finished and published. I sincerely apologize for any inconvenience this has caused any of you, as I've gotten a few complaints.
It's been a focus, timing, and energy issue on my part. I'm feeling a little overwhelmed & drained. But please know I love saving money and sharing great deals with you all. The Giant deals, honestly, take me hours to compile, because I am a formerly-Type-A-Perfectionist-Gal and want to ensure my match-ups are accurate & reflect coupons available here in our region. I have not been getting my circular in advance, which has been frustrating. I also am finding those pockets of time harder to come by, due to our family's schedule over the past few weeks. I was also out of town for the Savvy Blogging Summit in early October (and I realize not posting my Giant deals is not-so-Savvy-Blogging…) and have some more traveling on the horizon.
So thank you for understanding and I WILL be publishing the complete Giant deals for this week (Fri. 10/12 – Thurs. 10/18) by midnight tonight! I do plan to keep publishing the Giant deals on my blog, and I'm sorry about the inconsistency over the past few weeks! You all are the best and I really appreciate your patience!