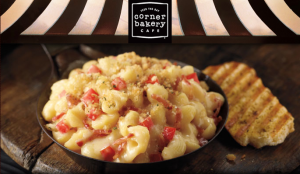 Corner Bakery Cafe wants you to try their new menu item: Bacon Tomato Mac & Three Cheese for FREE!
You can RSVP for a free "cafe-size" bowl of this new item here, and will have the option to select from available restaurants and dates/times (Friday October 19 – Thursday October 25, 2012).
If you are not already a member of Corner Bakery Cafe's eCafe, upon completing the reservation and accepting the terms and conditions to reserve your free Bacon Tomato Mac & Three Cheese, you will be signed up for their e-mail newsletter.