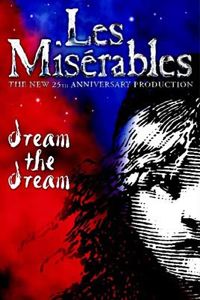 Looking for discount tickets to performances of Les Miserables and Dreamgirls in DC? Since I love musicals – and naturally bargains – I'm happy to share two HOT musicals playing here in the DC area over the next month and a half that are heavily discounted right now!
Discount Les Miserables Tickets starting at just $57 (regular price $75-$98)! Playing at the National Theatre in Washington, DC (1321 Pennsylvania Ave, Washington, DC 20004).
Currently there are tickets available for Dec. 13, 14, 16, 18-21 & 23, 2012.
Get your tickets here.
Note:  Les Miserables is now officially the longest-running musical in the world! Come see the 25th anniversary production at the National Theatre with an exciting, all-new production from famed producer Cameron Mackintosh. Based on the novel by Victor Hugo, this updated spectacular boasts new staging and scenery inspired by Hugo's own paintings, as it tells the epic tale of ex-convict Jean Valjean's struggle for redemption in 19th-century France. Winner of 8 Tony Awards, including Best Musical in its original Broadway run, the lush Boublil and Schönberg score features the classic songs "I Dreamed a Dream," "On My Own," "One Day More" and many others. The long-awaited film adaptation will star Hugh Jackman, Russell Crowe and Anne Hathaway, so now's the perfect chance to see the thrilling Les Mis live on stage.
Discount Dreamgirls Tickets starting at just $42 (regular price $83-$92)! Playing at the Signature Theatre in Arlington, VA (4200 Campbell Avenue, Arlington, VA 22206).
Currently there are tickets available for Jan. 2-4, 6, 8-13, 2013.
Get your tickets here.
Note: First a smash Broadway musical then an award-winning motion picture, Dreamgirls captures the spirit and hope of Motown when a girl group from Chicago makes it big. In a business controlled by men, the female trio fights for recognition, fellowship and love as superstardom challenges their musical and cultural identity. A rich, glowing spectacle about the price of show-biz success, Dreamgirls sizzles with sparkling dance and R&B soul.  Starring Hairspray's Nova Y. Payton as Effie.  Featuring the hit songs "Dreamgirls," "And I am Telling You I'm Not Going" and "One Night Only".
Disclosure: Affiliate/referral links are included in this post. Thank you for supporting this site by clicking through my links (at no cost to you, but to snag a great deal)! The opinions shared in this post are my own, and I love to share great deals & local events for my readers! To read my formal disclosure policy, please click here.