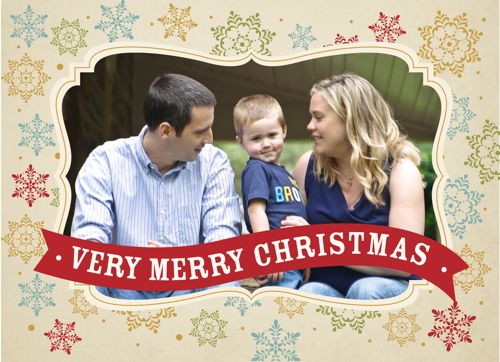 If you're like me, you're gearing up for the holiday season, and trying to figure out how to capture the perfect family photos (for Christmas cards, photo gifts, scrap booking, etc). It's the most wonderful (and perhaps stressful) time of the year, and we're trying to savor the magic of these moments with our family and friends in photos!
I'm thrilled to feature expert advice from Shannon Skypek Photography, answering 7 questions that will help you snap sensational photos this season!
BBM Question #1: Now that it's the beginning of December, I'm thinking about photo gifts and Christmas card pictures! Can you offer 3 tips for capturing a great family photo?
SHANNON:
When you think you're close enough, GET CLOSER! Arms wrapped around family members and everyone snuggled up creates a feeling of warmth and love in the photo.
Get the right light. The best light of the day is about an hour after sunrise and an hour before sunset. Photographers refer to this as the "golden hour" and it makes for soft, flattering light without a lot of harsh bright spots and dark shadows.
Timing is everything! It's not worth getting that perfect light if it means your 3-year-old is going to be a total grump and pout the whole time. If that means you need to get up at the crack of dawn because that's when the light is good and your kids won't be a wreck, do it. The plus side of an early morning shoot is that you can bribe everybody with donuts 😉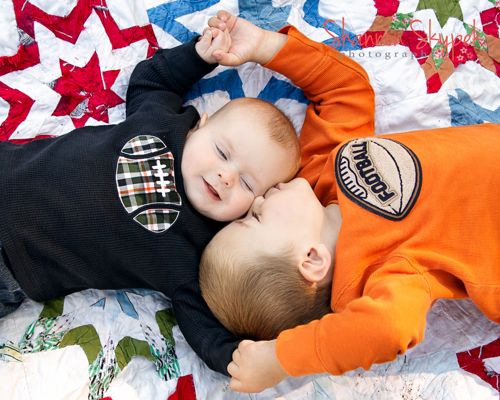 BBM Question #2: As a professional photographer, can you offer a simple tip for us non pro's when we take pictures of our kids?
SHANNON: Expect it to not be perfect. I do this for a living and it still took me three separate shoots to get the perfect photos of my daughters for our wall from their birthdays in September. Sometimes someone just won't be into it and you'll have to either switch gears or try again another time!
BBM Question #3: Can you share some pointers on how to capture a great family photo, whether inside or outside?
SHANNON: Indoors or out, it's really all about the lighting. When you're outside, it can be tough to avoid harsh shadows on faces, so you should really pay attention to where the sun is. The easiest way to get the best result is to put your subject in the shade and have them face you as you stand in the sunlight. This will make eyes nice and bright and should give nice, even skin tones. Indoors, you want to find the most available light possible. Move to the room with the most light coming in, open up the shades, and face your subject toward the light.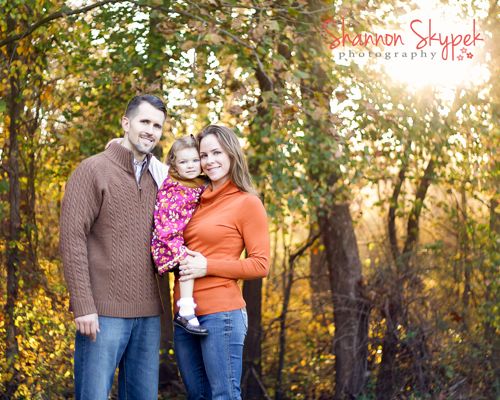 BBM Question #4: For those of us whose photos never turn out that good and want to invest in a professional photographer: What should we consider when searching for a photographer?
SHANNON: When I'm looking for a photographer for my own family, the first thing I do is check out his or her blog. Often this is a better place to learn a photographer's true abilities and style than his/her portfolio, because the photos in the portfolio are personal bests and may not represent that photographer's everyday skill. It's also important to consider a photographer's style – there are some amazing lifestyle photographers out there, but personally, I like more classic, posed portraits to hang on my wall, especially since I have a million snapshots that I've taken myself. And of course, I do check price, it'd be unrealistic to say that shouldn't be a factor. But, you do get what you pay for, and if you get a rock-bottom deal on Groupon, but you never receive your images because that photographer is drowning in work, that doesn't do you any good, either.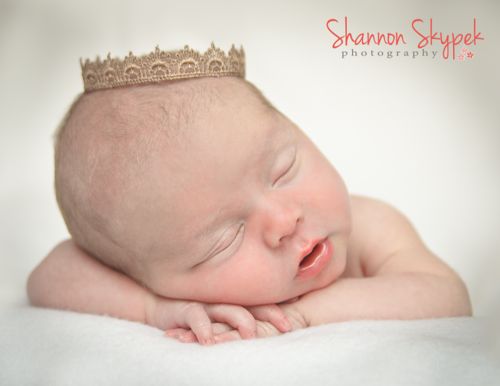 BBM Question #5: I always wonder what is best to wear for family portraits. Can you offer some tips on what attire works well for family photographs?
SHANNON: What to wear really comes down to personal taste, but the trend right now is for coordinated vs matching. For example, as you can see in the image below from my seasonal newsletter, all the outfits include similar tones and are pretty equal in how dressy they are (if you'd like to subscribe for more "what to wear" and other tips and offers, click here). You can also consider putting one family member in a patterned item of clothing, and then repeating some of the colors in the pattern with solid items on other family members.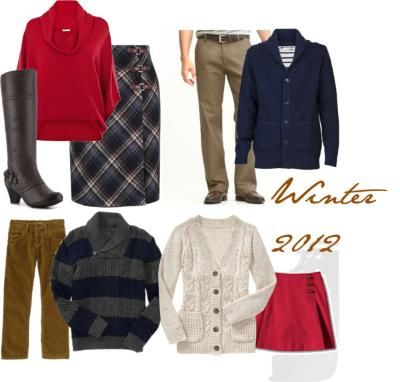 BBM Question #6: Can you share some of your favorite types of photo gifts and creative ways to turn those memories into keepsakes?
SHANNON: I personally do a photo book every year for each set of grandparents. The best part is that this time of year, you can bet you'll be able to score a really good deal on one. Actually, I know for a fact there are coupon codes out right now for free Shutterfly 8×8 books. We've also done personalized mugs and tote bags before, and those are always really well-received. This year, I'm offering my clients Kotori Photo Jewelry and I think I might actually have to pick up one of their necklaces or charm bracelets myself; so cute!
BBM Question #7: Any last tip you can offer busy parents who want to try and snap some sensational pictures this holiday season?
SHANNON: Don't ever forget Chase Jarvis's practical advice: "The best camera is the one that's with you." That means that is OK to leave your nicer camera at home and snap photos with your iPhone if that's what's easiest for you. Just don't neglect to record the moment, because they pass so quickly! Years from now it will be hard to remember these details, but if you've taken the extra second to take the photo, you'll have it forever.
Thank you Shannon for sharing some great tips to help us take great pictures this holiday season and into the new year!
Shannon Skypek Photography is based out of Centreville, VA, and specializes in on-location, natural light photography, creating modern yet timeless photographs that will look just as beautiful on your mantel ten years from now as they will on your Facebook page tomorrow. Contact Shannon to set up a session and capture the memory of your family as it is right now (because our kids grow so quickly!). Plus she has an awesome Winter Special available for the first 25 people.
Disclosure: Shannon Skypek Photography is an advertiser on my website. To read my formal disclosure policy, please click here.