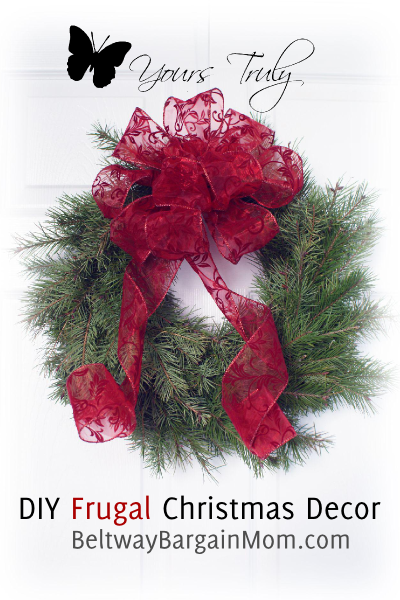 Don't bust your budget on holiday decor, when you can create your own frugal Christmas decorations inexpensively (and sometimes close to free!)
Today I'm so excited to feature a very talented friend of mine, Diana Nguyen of Yours Truly Art, with a tutorial on how to make your own FREE elegant Christmas decorations, in case you need to whip together some inexpensive yet beautiful, festive decor!
Materials needed:
I'm not the "live Christmas tree" kind of gal – I can't decorate a tree just to have it up for a couple of weeks nor clean up pine needles every day because I still need to fold those 10 loads of laundry. But I came across this idea of making a wreath for the fresh, pine smell and just went kind of crazy from there.
My husband picked up some pine tree cuttings from Home Depot for me on his weekly visit there. They are cut offs from the trees they sell and they gave it to him for FREE. Yay! (Only you might want to take a box or trash bag with you instead of dumping them in the trunk of the van like he did.)
First, you'll want to trim off the ends at a 45 degree angle and let them sit in the water for 24 hours.
Next gather your supplies, put on some Christmas music (okay, this is optional!). Cut about 30 pieces of 5 inch length from a roll of floral wire. Then snip a bunch of pine tips.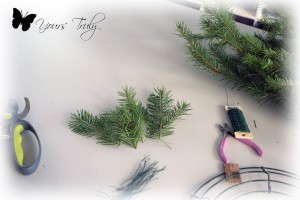 Gather those into little bunches with your 5 inch pieces of wire to make the next step easier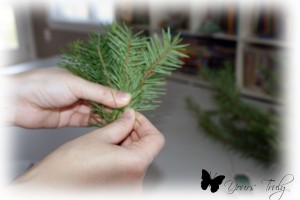 and about 30 of those bunches should be enough to fill a little wreath.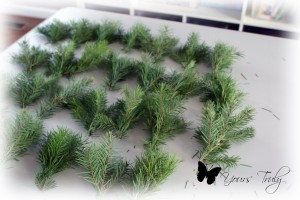 Lay one bunch on the wire form, wrap with wire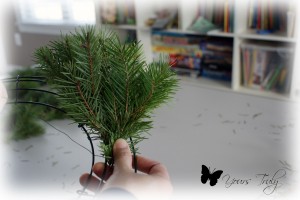 and continue adding a bunch to cover where the wire was and keep going.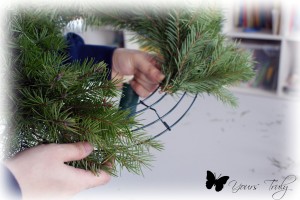 Then you're done when you put the last one under the first bunch.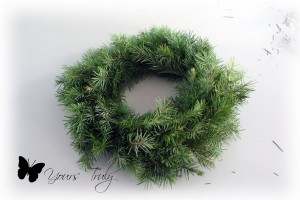 Add a fancy bow
and voila, you have yourself a nice-smelling, practically free wreath.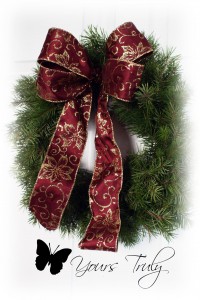 I suggest you also spritz some water on the wreath from time-to-time to keep it fresh.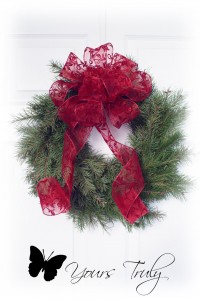 My wreath is over a week old and still fresh. If you have some red berry bushes around, that would add a nice touch to the wreath between bunches.
Other decorations or arrangements you can create with your free cuttings:
Make a little table top tree with a green styrofoam tree form
(I picked one up with the wire wreath forms because I just don't make it a habit to have those lying around),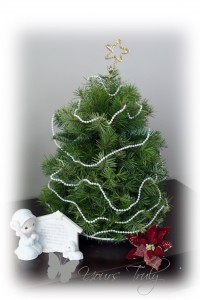 Put some nice cuttings in glass containers all in one place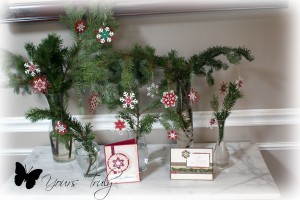 If you have snowflake punches or dies and colored cardstock, they make nice light weight ornaments.
I also put some cuttings on a charger, added some Christmas picks and pillar candles
for a centerpiece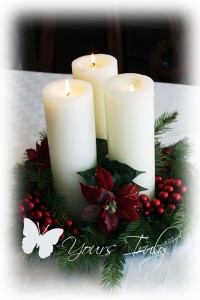 and plumped up my Advent Jesse Tree
.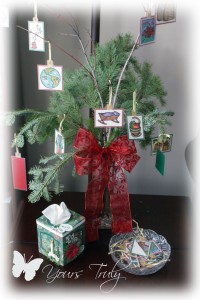 What type of DIY holiday decor have you created? I'd love to hear if you've made your own wreath before or have found other freebies or discounted items to turn into treasured Christmas decor or presents!
Thank you so much Diana for the great tutorial on how to design on a dime during the holidays! To see more of Diana's creations or find out about her personalized canvas paintings or calligraphy, check out her Facebook page. 
This post is a part of Works for Me Wednesday link-up. Check out the linky to get more great tips!
Disclosure: Please note, there are referral/affiliate links included in this post. Thanks for supporting this site, at no cost to you! To read my formal disclosure policy, click here.