Share the post "Speak up – New Consumer Advisory Panel Needs Your Opinion"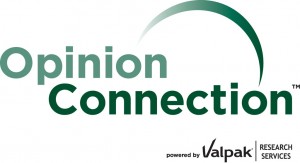 Calling All Savvy Savers, Clever Couponers, and Anyone Who Likes to Save a Buck!
As a savvy shopper or couponer, have you ever run into a new coupon or offer that you just wish didn't expire so soon? Or maybe you're dying to find more coupons to local kid-friendly vendors or something else that is so hard to find?
If you're like me you've also probably seen coupons or offers and thought: "Manufacturers and stores REALLY need to offer ______ or do ______ different with their next coupon/offer… then it would be perfect!"
Well, now is the time to share your opinion and help shape the future of couponing! Opinion Connection, is a new online consumer advisory panel, powered by Valpak Research Services, where your opinion as a clever couponer and determined deal finder matters and YOU can actually make a difference! When I had the chance to visit Valpak headquarters earlier this fall, I absolutely loved chatting with their marketing team about what couponers, like me, love, as well as what I think should be changed. And so their new Opinion Connection program has been created to find out what YOU really think about money-saving methods and what you want!
Membership is open to anyone who subscribes to the mantra "a penny saved is a penny earned", and it doesn't matter if you receive the Valpak envelope or not – Opinion Connection covers lots of different topics.
Consider Opinion Connection a quick and easy way to share your thoughts and ideas on both online and offline savings, such as: What type of coupons do you prefer? How do you search for savings? Do you use mobile coupons? What are your favorite sweepstakes prize? What do you think of the daily deals craze?
Here's what can you expect when joining Opinion Connection:
You'll be contacted once a month via email and asked to complete a short activity
Activities take less than 10 minutes to complete; some may be just one or two questions
Answers are kept strictly confidential
Your answers and information are secure; Opinion Connection will never sell or distribute your email address to a third party for any reason
Simply go here to complete a brief introductory profile (it took me just under 3 minutes to complete mine)
and you'll be enrolled in this fun, online panel where you can voice your opinions and help shape the future of couponing. Through monthly online activities, you will be able to share your couponing experiences and your own top tips of how to navigate the stores (or online retailers) and snag the best deals.
To Sign up:
Simply go here
Or, if you're using a Smartphone: here (for mobile optimized sign-up form)
Please share with your bargain-hunting friends and family to invite them via this link too!
I'm excited about the opportunity to collectively join together in this panel and voice my opinion to help provide more insight on what deal-savvy guys and gals really want! Together we can help shape the future of couponing!
Disclaimer: This is a sponsored post from Valpak Research Services. The opinions shared in this post are my own, and I love to share great deals and all things coupon-related for my readers! To read my formal disclosure policy, please click here.