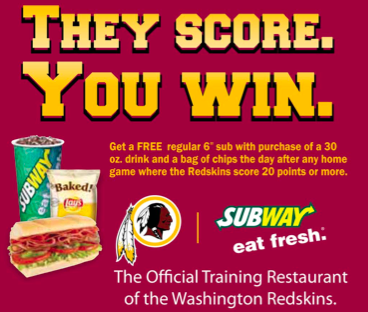 Today is a Redskins home game versus the Ravens, and if our 'Skins score 20 points or more, you'll be able to get a Subway Free Sub Coupon tomorrow (Monday Dec. 10th) on the Redskins site! Keep your eye on the game or be sure to check the final score, and be sure to take advantage of this freebie tomorrow. *UPDATE* With the field goal they just scored, the Redskins now have 20 points on the game board! That means you can get a free Sub tomorrow!!*
Fans will be able to find the coupon tomorrow on the Redskins website which can be redeemed for one free regular 6" sub with purchase of 30 oz drink and chips on Monday 12/10 only. This promotion runs through the end of the 2012 football season, at Subway restaurants here in the DC metro (and we have one more home game vs. the Dallas Cowboys on 12/30/12)
Go here to print your coupon to enjoy a free sub (if the 'Skins score 20+ points)! Go 'Skins!