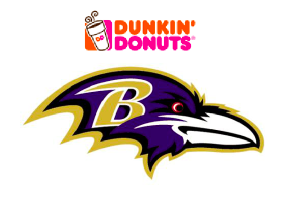 Hope all you Baltimore Ravens fans are ready for the big game day (T-minus 3 days 'til they battle the 49'ers for the NFL's most-watched Super game of the year)! To celebrate the Baltimore Ravens accomplishments this football season, Dunkin' Donuts Baltimore has a fun giveaway! This week you have the chance to win an autographed Ray Lewis football thanks to @DDBaltimore (aka the fun Dunkin' Donuts Baltimore Twitter team)!
Quick rules: In order to be eligible to win an autographed football, you must follow @DDBaltimore, be 18+ in the Baltimore area, and RT the @DDBaltimore handles #RavensRunonDunkin tweet. Please note, it can't be a RT of someone else's tweet.
Here's the @DDBaltimore tweet that you can ReTweet for a chance to win: https://twitter.com/DDBaltimore/status/296600144890179584
#RavensRunonDunkin Follow us & RT this msg 4 chance 2 win @RayLewis Autograph FB! Rules:No pur nec. 18+.Ends 2/3/13 http://www.ddbaltwashcontest.com
For full contest rules, visit the contest website here and click on the "rules" tab. Good luck to the Ravens this Sunday at the big game, and thanks to Dunkin' Donuts for the fun Twitter contest!