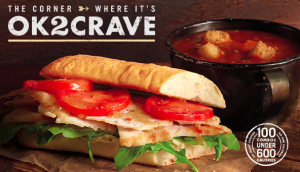 Right now Corner Bakery Cafe is offering a high value coupon for a free Corner combo of your choice to the first 10,000 who sign up on their Facebook OK2CRAVE app and share what they crave.
It's OK2CRAVE at Corner Bakery Cafe, with over 100 Corner Combos under 600 calories. Including scrumptious combos like Chicken Pesto Sandwich and Roasted Tomato Basil Soup Corner Combo – only 540 delicious calories.
This offer is limited to the first 10,000 people to visit their OK2CRAVE app on Facebook and tell them what you crave in at least 150 characters. To get yours, go here. Please note, this offer is only available to Corner Bakery Cafe Facebook fans and the coupon will be mailed out in the form of a postcard coupon.