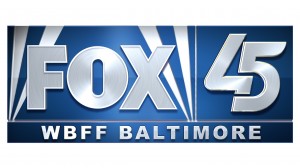 Welcome Fox 45 Baltimore viewers! I had fun stopping by the Fox station during "Good Day Baltimore" today to share some simple tips on ways to save money on groceries and eat healthy (both important as we start off the new year!). If you're new to my site, welcome!
In case you missed it, here are the three quick tips I shared during the segment:
Make a plan and stretch those meals! Make a meal plan and make meals from versatile key ingredients that can be stretched into multiple meals. Think of it as a "leftover makeover" On air, I showed how you could easily create 3 completely different meals from a whole cooked chicken (1st night: Chicken as main dish. 2nd night: Chicken noodle casserole. 3rd night: Spinach & chicken salad)
Technology is your friend; use it! There are a plethora of online resources and apps that can help you save time & money in the store. Beltway Bargain Mom is a resource for local deals in the DC metro, frugal lifestyle tips and family-friendly events. Another great tool, which I shared on air, is ZipList. This is a free website tool and mobile app that makes meal planning and grocery shopping simple and easy, plus allows you to search for local grocery store deals and best pricing on products in your area.
Don't be a brand diva! Be willing to be adventurous and try different brands or even store brands, when looking to save more money. This could mean taking advantage of a sale paired with a coupon to get a new product or variety (which could be 50% or more savings than your preferred name brand item at full price). Or it could mean buying the store brand if you need to buy an item and there aren't any sales. I was pretty amazed to do a price comparison in my local Giant store, and found that on some items I could save as much as 58%, just by purchasing the Giant brand item versus the expensive name brand item. Biggest savings when buying generic (during my shopping trip this week), were a loaf of bread (58% less than Nature's Own at full price), honey roasted peanuts (51% less than Planters at full price), canned corn (42% less than DelMonte at full price), crackers (40% less than Triscuits at full price) and pasta (37% less than San Giorgio at full price).
Of course there are many more ways to save, but since I only had a few minutes, I stuck to these three main points :).
If you're looking for simple ways to save at the grocery store, check out my post "10 Tips To Save More Money At Grocery Stores (Besides Using Coupons!)". You can find the best grocery store deals in our area, by visiting the "Grocery Store Deals" tab on my menu bar above, plus I love to share great deals on local restaurants, coupons, and fun frugal activities!
I teach local Savings Nation Coupon Workshops and will have more public classes scheduled over the next few months. I also do bookings for private classes for clubs, organizations or conferences; I love to share practical ways you can save money and be a savvy shopper! If you're interested in attending a class, please fill out this form, which will help me determine the location of future classes.
If you want to stay in-the-know on all the best local deals, I highly recommend you sign up for my free email newsletter. I'd also love to connect with you on Twitter and Facebook. If you love fun photos & interesting recipes, you can find me on Instagram & Pinterest too. I look forward to helping you save and sharing my frugal adventures along the way!