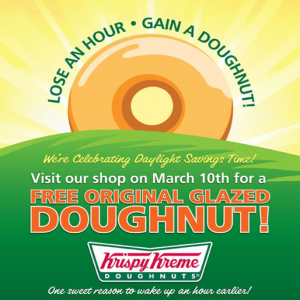 It's Daylight Savings, and even though we've lost an hour, you can gain a doughnut! Krispy Kreme is offering a fun freebie to help you get through the day: a free doughnut!
Today, Sunday March 10, 2013 you can get a free doughnut at participating Krispy Kreme stores. No coupon necessary, limit one free donut per person.
For more info, click here. I recommend calling your local Krispy Kreme store to confirm participation before heading out. Participating locations should include: Washington DC, Alexandria VA, Fredericksburg VA, Rockville MD, as well as other markets listed here.