This week marks Goodwill Industries Week,  an annual celebration of Goodwill of Greater Washington. You're probably familiar with Goodwill as a place to donate items you no longer need or a place to shop for thrift store bargains. But, do you know why Goodwill exists and accepts your donations? Their mission is to provide free job training and employment services to people with disabilities and disadvantages.
In case you aren't as familiar with them, Goodwill of Greater Washington (GGW) is a nonprofit workforce development organization that has helped tens of thousands of Washington metropolitan area residents get jobs since 1935. They operate a successful chain of retail stores; clean millions of square feet of office space; and employs more than 700 people. Goodwill's goal is to provide tools to become self-sufficient and transform lives in the community.
In 2012, Goodwill directly affected the lives of more than 3,200 people in our community. 228 people were placed into new jobs and employed over 600 in their retail stores, contract services and administrative support divisions. Goodwill also diverted over 20 millions of trash from local landfills through their donation program. In addition to training people for jobs, placing them into jobs, providing consumers with access to quality, low cost goods, and acting as one our region's largest recyclers, Goodwill is also a job developer. With each new store and donation center that Goodwill opens, 25-30 new jobs are created.
To find out more about Goodwill of Greater Washington, find your nearest store or donation center, or find out ways you can get involved, be sure to visit their website or download their free DC Goodwill mobile app from the iTunes app store.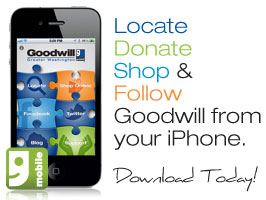 This post is a part of the Goodwill #Blog4Good campaign. I was not compensated to write this post, just happy to share about an organization that I personally donate to and whose retail shop I visit as well! Plus I love the Goodwill Fashionista Blog and have been honored to guest post for them.