Share the post "PBS Kids – Ready To Learn Initiative Encourages Parents To Foster Everyday Learning"
Late last month my daughter and I had the opportunity to visit the PBS Kids headquarters here in Arlington, VA. We, along with other bloggers, got to hear more about their new initiatives & programs, plus test out the PBS KIDS Lab.
Before attending the event, I was already a PBS Kids fan. Admittedly, at some point of the day I usually have one of the PBS Kids show theme songs stuck in my head (or the "da da da da, doink, P-B-S Kids!"). I appreciate the fun and educational tv program options for my kids, and shows like SuperWhy, WordWorld, Curious George and Dinosaur Train are some of our favorites. In fact, my daughter was thrilled to get the chance to meet George in person!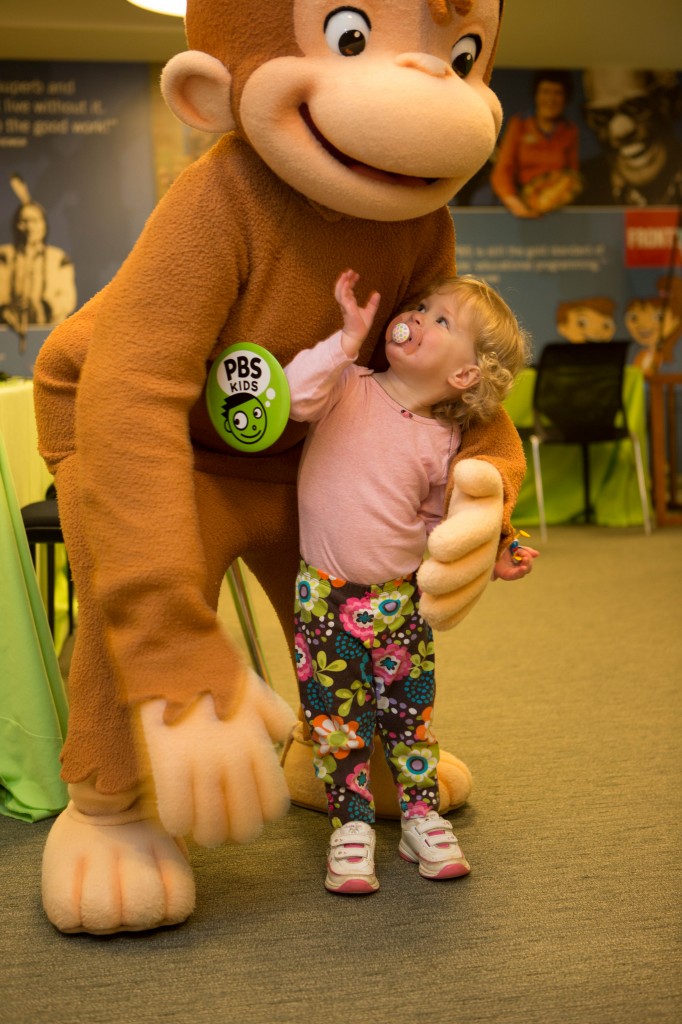 At the event I was alarmed to hear that over half of our nation's children are performing below proficient levels in math by 4th grade. And a recent study discovered that nearly 30% of parents feel anxiety about teaching/helping their kids with math. PBS Kids truly believes that parents can help change these sad statistics and can make anytime a learning time. There are simple things parents can do each day to support their kids' learning in everyday activities, and all those little things add up in a BIG way.
To help educate and improve those statistics, PBS Kids has launched Ready To Learn (RTL), which promotes early learning through age-appropriate, educational and engaging content for children ages 2-8. The Ready To Learn initiative is a children's media program targeted toward America's most at-risk kids, but made available to all families and children across the country. The initiative offers high-quality transmedia content, meaning it crosses multiple platforms: the characters and storyline are available on different media. The math- and literacy-based educational programming created by Ready To Learn provides families with effective, non-commercial content that helps prepare kids for success in school.
PBS Kids has also created a new animated preschool series called Peg + Cat which will debut in October 2013. The show features the spirited Peg and her sidekick, Cat, as they embark on adventures, solve problems and learn foundational math concepts and skills. Each episode features a story in which Peg and Cat encounter an unexpected challenge that requires them to use math and problem-solving skills in order to save the day. We got to see a little sneak peek, and we'll definitely be tuning in when the series kicks off in the fall.
During the PBS Kids Lab testing, we got to try out some of the new online games and apps, many of which are available for free. Below are a few of my favorites:
Curious George Bubble Pop (geared for ages 3-5) – this was my daughter's favorite!
Play online for free here.
Children's favorite monkey helps children learn to count, one bubble at a time, as they clap (requires computer with microphone) or click on the bath bubbles in the CURIOUS GEORGE "Bubble Pop" online game.
PBS Parents Play & Learn App (ages 0-4)
Download it for free here.
Building on the research and experience that has informed decades of children's programming, PBS Kids has launched its first app designed specifically for parents – to help parents foster early math and literacy skills for children 4 and younger. This bilingual (English/Spanish) app makes it easy for parents to seize upon those daily "teachable moments" through theme-based interactive games and simple hands-on activities that connect math and literacy skills to everyday experiences.

The app provides more than a dozen games designed to build early math and literacy skills, each themed around a familiar location, including the grocery store, restaurant and home.

Parent tip: When you head to the grocery store this week, launch the Grocery Store Game. Parents of preschoolers can introduce kids to measurement in "How Heavy?," asking children to help weigh fruits, for example. Parents of younger children can use the tips in "Food Talk" to build baby's vocabulary – describing food as they put it into the cart and asking questions like, "You love nice ripe bananas, don't you?"
The Adventures of the Electric Company on Prankster Planet
Play Prankster Planet Reverse-A-Ball Word Challenge for free online here.
Francine is out of control, hurling scrambled word balls at Earth. Kids take control by unscrambling words and, as they progress, can land on the game's Leader Board for word-unscrambling bragging rights.
PBS Kids will also hold "Raising Readers" events through twenty local PBS stations by building partnerships and helping to test and develop models to provide caregivers, teachers and parents with access to engaging research-based, multi-platform content, activities, and tools specifically designed to improve children's reading skills. The 20 PBS Kids Raising Readers Stations include our local WHUT in DC and MPT in Baltimore, so be on the look out for local community events in the future.
To find out more about the PBS Kids Ready to Learn initiative and how you can incorporate fun, educational activities across a variety of platforms, visit the PBS Kids website.
Thanks to PBS Kids for inviting us to visit their headquarters to learn more about their mission and initiatives. And thanks for making me a very popular mom with the VIP visit from Curious George himself… my daughter was thrilled, and upon arriving home immediately had to put on her own Curious George costume to wear around the house for the rest of the day. George made quite an impression