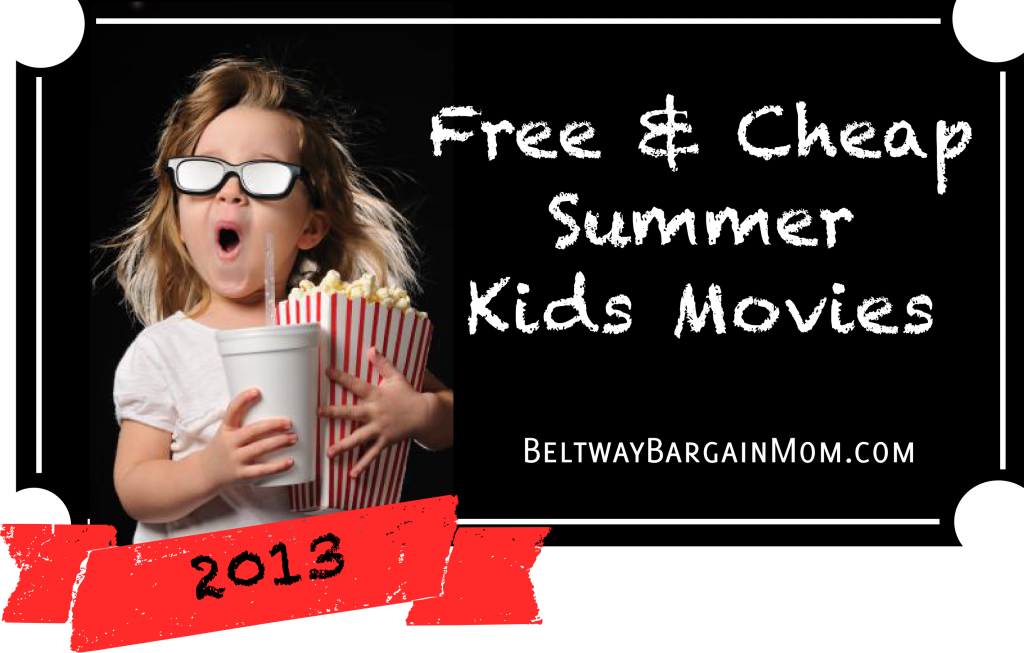 Summertime is here and there are so many fun, inexpensive ways to keep your children entertained in the DC Metropolitan area. Here are some free and cheap movies you can see at local movie theaters in Northern Virginia, Maryland & DC!
Check out my list of DC summer outdoor movie festivals for free films you can catch at dusk across the region. I'm working on this list, but will publish the link here once it's up, so check back soon!
I'll be updating the list below as I hear back from more local cinemas.
Here are films you can catch on the cheap, inside a (heavily air conditioned) movie theater this summer.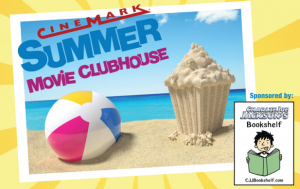 Cinemark Summer Movie Clubhouse ($1 movies. Or purchase a pass for 10 Films for $5 – just $0.50 each!)
Select Free G & PG Movies at 10am on Tuesdays and Thursdays. Starting Tues. June 4th, 2013 through Thurs. August 8th, 2013. Doors open at 9:30am.
Local cinemas: Cinemark Egyptian 24 & XD in Arundel Mills Mall (7000 Arundel Mills Cir, Hanover, MD 21076).
June 4 & 6: Looney Tunes: Back In Action (PG)
June 11 & 13: Cloudy With A Chance of Meatballs (PG)
June 18 & 20: Horton Hears A Who (G)
June 25 & 27: The Smurfs (PG)
July 2 & 4: Ice Age: Continental Drift (PG)
July 9 & 11: Dolphin Tale (PG)
July 16 & 18: Happy Feet (PG)
July 23 & 25: Oceans (G)
July 30 & August 1: Rio (G)
August 6 & 8: Chimpanzee (G)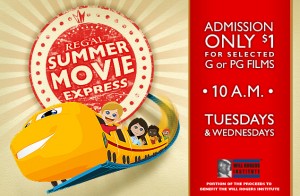 Regal Entertainment Group Summer Movie Express
Regal Summer Movie Express is back this summer! This 9-week festival shows select G & PG Movies for just $1 per person at 10am on Tuesdays and Wednesdays. Starting in late June (starting June 18th in some locations, June 25th in other locations) through mid/late August.
Local participating cinemas in Northern VA: Kingstowne Stadium 16 (Alexandria), Ballston Common Stadium 12 (Arlington), Fox Stadium 16 (Ashburn), Fairfax Town Center 10 (Fairfax), Fredericksburg Movies 14 (Fredericksburg), Manassas Stadium 14 (Manassas), Countryside Stadium 20 (Sterling). See schedule here.
Local participating cinemas in MD: Abingdon, Bowie, Frederick, Gambrills, Germantown, Glen Burnie, Hagerstown, Hunt Valley, Salisbury, Silver Spring. See schedule here.
Week 1: Tuesday: The Three Stooges (PG). Wednesday: Ice Age: Continental Drift (PG)
Week 2 – Tuesday: Diary of a Wimpy Kid: Dog Days (PG). Wednesday: Parental Guidance (PG)
Week 3 – Tuesday: Mr. Poppers' Penguins (PG). Wednesday: Alvin and the Chipmunks: Chipwrecked (G)
Week 4 – Tuesday: Monte Carlo (PG). Wednesday: Rio (G)
Week 5 – Tuesday: Coraline (PG). Wednesday: ParaNorman (PG)
Week 6 – Tuesday: Dr. Seuss' The Lorax (PG). Wednesday: Big Miracle (PG)
Week 7 – Tuesday: Yogi Bear (PG). Wednesday: Journey 2: The Mysterious Island (PG)
Week 8 – Tuesday: Racing Stripes (PG). Wednesday: Happy Feet Too (PG)
Week 9 – Tuesday: African Cats (G). Wednesday: Chimpanzee (G).
OUTSIDE OF DC REGION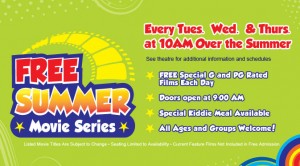 Phoenix Big Cinemas Free Summer Movies
Free select 10am showings Every Tues, Wed and Thursday. Free Admission – All Ages & Groups Welcome. Doors open at 9:00 AM – Special Kiddie Meal Available. Seating Limited to Auditorium Capacity – No Purchase Necessary.
Participating theaters located in:
Oneida, TN
Greenacres, FL
Kansas City, KS
Corona, CA
Pigeon Forge, TN
Cherokee, NC
Laughlin, NV
Temple Hills, MD
North Versailles, PA
Bridgeville, PA
North Bergen, NJ
Decatur, GA
Gaffney, SC
I hope you enjoy the DC kids summer movies! Please note in the past there were more local theaters showing free movies, but most have stopped those programs or upped their prices to $1 per person.