Share the post "DC Summer Camp Deals + FREE Starbucks Gift Card!"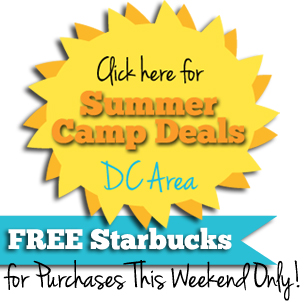 Trying to find a great deal on summer camp here in the Washington DC metro? Certifikid has some great deals on kids camps, plus anyone that purchases a summer camp deal from Certifikid this weekend (Fri. 6/14 – Sun. 6/16) will receive a FREE $10 STARBUCKS e-gift card! Score a great deal on camp and a free coffee treat for yourself!
Good news: there are sports camps, art camps, academic enrichment camps, science camps, cooking camps, foreign language camps and even chocolate creating camps!
Some participating summer camps (this is not a complete list!) that you can currently find deals on at Certifikid include:
1-Day Cocoa Summer Camp through Tasty Image in Bethesda, MD (ages 5 and up)
3-Day Bounce Camp through Pump-It-Up in Gaithersburg MD or Leesburg VA (ages 4-12)
3-Week Gymnastics Camp through Dynamite Gymnastics Center in Rockville MD (ages 3 & 1/2 and up)
1-Week Gymnastics Camp through Gymnastics World in Woodbridge, VA (ages 4 and up)
1 Week  Gymnastics Camp through Loudoun Gymnastics Center in Sterling, VA (ages 3 and up)
1-Week Gymanstics Camp through Dulles Gymnastics Academy in Sterling, VA (ages 5-13)
1-Week Acro Gymnastics Camp through Xtreme Acro & Cheer in Rockville, M (ages 4 and up)
5-Day Tumbling Camp through JW Tumbles in Herndon or Ashburn, VA (ages 3-9)
1-Week Dance Camp through Tiny Dancers in Fairfax or Gainesville, VA (ages 3-5)
1-Week Dance Camp through Heartbeats Music & Dance in Springfield, VA (ages 3-7)
1-Week Sports Camp at On The Mat Sports International in Bethesda, MD (ages 4-14)
5-Day Martial Arts Camp through Kang's Black Belt Academy in Sandy Spring, MD (ages 4-12)
5-Day Fencing Camp through Rockville Fencing Academy in Rockville, MD (ages 9 and up)
1-Week Horseback Riding Camp through Talbot Run Equestrian Center in Mt. Airy, MD (ages 6-17)
5-Day Art Camp through Artworks Fine Arts Studio in McLean, VA (ages 6-12)
1-Week Art Camp through FR Designs in Centreville, VA (ages 8 and up)
1-3-Week Full Day Music and Drama Camp through Lopez Studios in Reston, VA (ages 5-12)
1-Week Social Skills Camp at Camp Friendship in Arlington, VA (PreK – 6th Grade)
1-Week Summer Camp at WES in Bethesda (PreK – 8th Grade)
1-Week Full-Day Language Camp for Chinese or Vietnamese through BCLC in Falls Church, VA (ages 3-12)
1-Week or 2-Week Discovery Science Camp for Boys through The Heights School in Potomac, MD (2nd Grade – 8th Grade)
1-Week Academic Enrichment Camp through Eye Level in Falls Church, VA (ages 4-9)
For even more offers, see their full list of Camp Deals. This is only available through Certifikid, the daily deal site geared toward DC-area kids and families, and it is free to sign-up! Just go here, set up your account, and then log-in to access the members discount section and click on the sidebar button for "Summer Camp Deals."
Disclosure: Affiliate and referral links are included in this post. Thanks for supporting Beltway Bargain Mom! To read my formal disclosure policy, click here.