Share the post "Free Kindle Book "Spill: Secrets from a Former Agency Executive and Spokesblogger""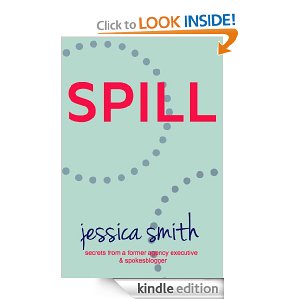 Today only, you can get a free Kindle version of Jessica Smith's book Spill: Secrets from a Former Agency Executive & Spokesblogger
In case you aren't familiar with Jessica, she's a popular blogger (formerly Jessica Now) and marketing pro, who also happens to live in the greater DC/Baltimore region. I've had the chance to meet her in person at local blogging events in the past, and have to say, she is the sweetest person and one smart cookie! I can't wait to read her book!
If you're a blogger, business owner, marketer, or just curious about the blogging world, you should definitely buy her book! And you can snag the Kindle version for FREE today (July 11th, 2013) too! Here's a synopsis:
There are millions of bloggers but how many of them are making a good income from being a spokesblogger? In Spill, Jessica Smith, a former vice president at a global communications firm where she specialized in blogger relations and a former spokesblogger for big brands, shares her secrets only shared with her colleagues and blogging inner circle. Until now. Learn practical ways to position yourself as a spokesblogger to brands, build valuable relationships with agencies, and stand out from the competition. Jessica also gives clear, concise advice on not sabotaging yourself, pricing and structuring your fees, and establishing valuable partnerships. Subject matter experts new to the world of blogging will benefit as much as bloggers who want to breakout into paid spokesblogger contracts.
Disclosure: Affiliate links are included in this post. Thanks for supporting Beltway Bargain Mom! To read my formal disclosure policy, please click here.