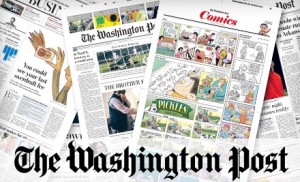 Wondering what coupons are in the Sunday Washington Post coupon inserts for October 6, 2013?
There are 3 coupon inserts ($268-worth) today: 2 Smart Source & 1 Red Plum 
Plus you'll also find:
In the main Paper (A11): JC Penney coupon (good on apparel, shoes, accessories & home) $20 off a $100+ purchase, $15 off a $75+ purchase, or $10 off a $50+ purchase. Expires 10/10/13.
In the main Paper (A16): Big Lots! 20% off your entire purchase. Valid today only for Friends & Family Day. Expires 10/6/13.
In Parade Magazine (page 9): $2/1 coupon for Alive! Multi-Vitamins. Expires 12/31/13.
In CVS flyer: 20% off Shopping Pass. With card, excludes sale items. Expires 10/12/13.
If you're missing the insert(s) listed above, check out my post for information on what to do if your Sunday Washington Post delivery is incomplete or damaged. You can always call (try to do this as soon as possible, before 11:00 am on Sunday) the customer service department for your newspaper to explain what you are missing and request re-delivery of the missing portion.