Redskins fans: Let me hear you cheer! DC's football team is playing hard and has helped you score a free 6-inch sub at Subway tomorrow! All season long, Subway restaurants have been giving away a Free Subway 6-inch sub for Redskins Fans with coupon and additional purchase of a 30 oz drink & chips, valid the day after home games in which the Skins score 20+ points.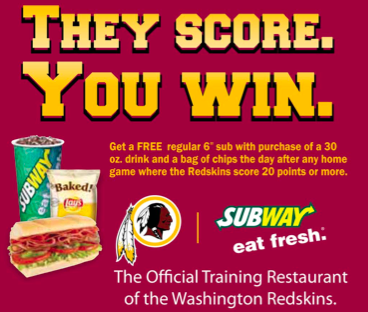 This printable coupon is good for a FREE regular 6" sub with purchase of 30 oz drink and chips on the day after that home game. Since the Redskins just scored 20 points against the Dallas Cowboys, that means tomorrow, Mon. Dec. 23rd you can redeem your coupon for a free sub! Even though the Skins ended up losing the game, you can still get a free sub since they scored 20 points.
Enjoy your free sub tomorrow!